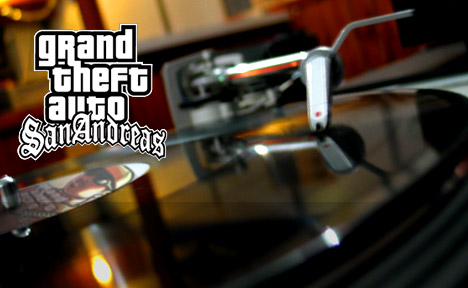 Details: 11 functional radio stations, 20 different DJs.
"More licensed music than in any other action videogame in history."
"Instead of looping the sounds heard on each station, the entire setup is dynamic."
"Players can expect to hear live weather bulletins, deadly accurate news updates, music blocks, custom track lead-ins and outs, and call-ins from people all over the state."
Three times the amount of commercials in GTA3.
Music will sound different depending on your car and its stereo.
You will be able to buy the soundtrack standalone in two versions, both available November 23rd.

Double album with highlights from each station.
Giant box set with 8 CDs.

One new radio station in addition to the ones mentioned earlier: WCTR talk radio. The DJ is secret (aka Lazlow?) as is all other information about it.
Along with the preview, there are two new screenshots and eleven artworks for all the radio stations. Expect a new and fully revised soundtrack page once adamcs wakes up!
Just received word that Gamespot will be running a San Andreas article tomorrow night. Also, I just received the two screenshots that were up on IGN and Gamespot earlier in the week.