On this day in 2008, Rockstar released one of the most well-received GTA games to date. That would be Grand Theft Auto IV.
A darker and grittier entry to the GTA series, it was announced in 2006 at E3, with a trailer coming in March of the following year, revealing what Niko Bellic was searching for in Liberty City…
Perhaps here, things will be different.

Niko Bellic
This was the first GTA game to use Rockstar San Diego's RAGE engine, after Table Tennis had done so two years prior as a tech demo on the Xbox 360. GTA IV looked better than any other GTA game before, and was the first game to release only on the PS3 and the Xbox 360, with features and gameplay that had never been seen before, and a dense metropolis which represented the remastered Liberty City.
Historically, the GTA series had always been very goofy and never took itself much seriously, but a grittier and slightly more serious entry to the series was welcomed with open arms among the community, and fans anticipated more and more information about the game, even with the delays (from October 2007 to April 2008).
When the time came for game previews, we here at GTANet reported on every single one of them, and we very clearly did not hide the hype!
We also very quickly reported when Take-Two teased in 2005 that something new for GTA was coming the following year…
For many, GTA IV is their game of all time, or their Grand Theft Auto of all time due to how serious it is (a balance of serious and fun, shall we say), how deep the story and its characters are, and for the environment itself.
GTA IV also made a mark for many of us here at GTANet…
Our Thoughts 12 Years Later
uNi: This GTA hits me right in the feelings for a couple reasons, I mean, GTAIII is still my favourite mostly for nostalgic reasons but GTAIV is sitting right up there with it. I've joined a Total Conversion mod somewhere back in 2004 that made me learn 3D modelling and map modding GTA SA. The goal of the project was to recreated New York into the game, because the team favourite game was GTAIII and we wanted a better version of LC I guess. GTA IV was announced and there was a lot of speculation where the game would take place, as always at GTAF, so we kept working on our mod, mostly the downtown area as it our the part of the city we liked more I guess? Anyway, time goes by and the first trailer for the game is released, now, don't get me wrong, we were never near Rockstar North levels obviously but our models were rather decent for the time, but seeing some of the areas we were working on in the game was a bit emotional I guess. R* North version of NY was better, bigger and closer to completion than our small team could ever do, and altough we knew that was the end of our project right there, at the same it was amazing to see that was the next city, the one we wanted and it looked absolutely amazing. Pre-launch for GTA IV also marked when I went from a small fan site to bigger pasture like PlanetGTA and eventually joining GTANet. The care packages that R* sent us back then are still some of favourites! (The license plate, wanted posters, cd-roms with exclusive screens!). The game finally released and I could not resist the wait, so I just bought an Xbox 360 just to play it on day 1, and it felt just as big of a jump as GTAIII was back then. Don't get me wrong, V was a amazing game, but I cannot put it in the same shelf as III and IV.
Kirsty: GTA IV… there's just so much it has done for gaming and for our community. It's the reason I'm writing this here on GTANet, in fact! I remember when I first found out there was a brand new GTA coming, and it was the trailer on TV where Niko was walking through Liberty City with the scenery in the background changing. I wasn't a member of any forums or fan communities back then to experience the pre-release hype, so I think it was pretty close to the release month, or it might have even been shortly after. It didn't take me long to go out and get the game though, and I bought the PS3 especially for it. I specifically remember hooking the TV up in my mom's living room as soon as I got home, and being so engrossed that I sat on the floor and just about killed my neck muscles playing it all night. Rockstar were well and and truly established as leaders of the open world, but there was something about GTA IV that really set it apart. Each game from the past had a vibe of it's own, but with GTA IV it was just instantly palpable with that gritty orange environment. Rockstar out-performed themselves when they gave us a new Liberty City, and Niko had a personal history and depth that your average gamer could probably never relate to but was instantly likeable as a protagonist because he was like a fish out of water, experiencing the craziness, and darkness, of America along with us. Curiosity got the best of me, as it usually does when you're running through these massive open worlds, and in 2008 I joined a little old site called GTAForums to ask if we'd be able to call the numbers on the "for sale" signs and buy more properties after achieving 100%. No idea why this was so important to me…but here we are. I disappeared after getting a resounding "no" from everyone, and then re-joined the community in 2011 to look for GTA V info, and here we are today celebrating GTA IV's 12th birthday. What a ride it has been, and for that GTA IV will always be special.
Spider-Vice: To this day GTA IV is still one of my favourite GTA games, even surpassing GTA V in a lot of aspects. I really enjoyed the twist into a more serious tone that GTA IV took compared to the previous entries, and it was one of those games that I feel like replaying often (which I am doing right now too!). GTA IV was one of the reasons that made me join GTAForums, along with wanting cheats and mods for GTA SA on PC. I distinctly remember seeing posts about the GTA IV teaser website launching in March 2007 with a sinister countdown to the first trailer, and no one really knew what to expect from this game. But boy oh boy was I and everyone else blown away – I remember showing the trailer to everyone I knew that was also interested in GTA, and replaying it over and over again. I started focusing on III-era modding and somewhat lost track of GTA IV news, so it wasn't until much later I realised that the game had been delayed from October 2007 to April 2008, despite seeing most previews and screenshots. I am a PC player at heart and I stopped upgrading my consoles with the PS2, PSP and the original Xbox, so I had to wait a few more months for the PC version of GTA IV (I still have the original retail version as seen below!), but even after having played it on a friend's PS3 multiple times, GTA IV did not cease to blow me away, and I think it's one of Rockstar's best designed games in terms of world, story and gameplay – Niko's story is probably one of the most engaging I've played, and I admit I spent way too much time going for 100% and just soaking in the grittier and darker Liberty City, still one of my favourite GTA cities as well. Remaster pretty please? 😉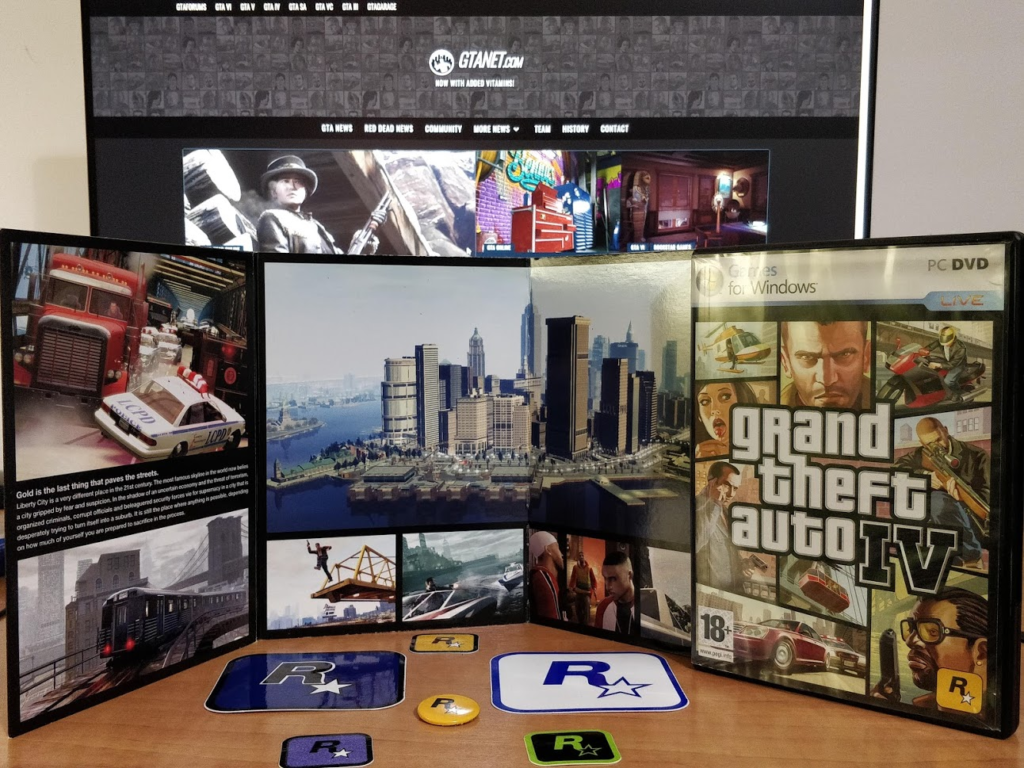 So, happy 12th birthday GTA IV!