Earlier tonight at 9:30 PM UK, the usual quarterly financial conference call that Take-Two hosts to summarise financial results from their last quarter happened. But every May, as it is the beginning of a new Fiscal Year (I'll explain that later), they look into the future, whilst updating investors with a pipeline of future releases, or expected number of future releases.
You may have noticed that the Internet, our forums and even the games media have started reporting that GTA VI's release window may just have been revealed based on new Take-Two future outlook information, and based on history, we can absolutely say that might very well have been the case.
Let's begin.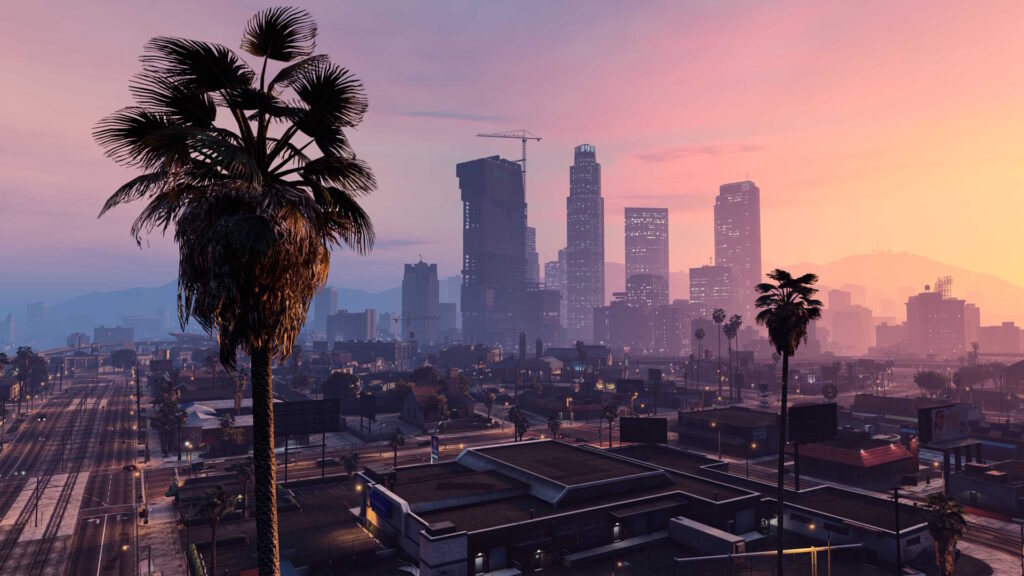 ---
A Look Back
Take-Two conference calls, despite being intended for the consumption of financial media and corporate investors, always attract large amounts of attention from the fanbase, especially in the run-up to a potential announcement of a new Rockstar game. Well, this also applies when the news drought sets in, as it happened many times during GTAV and RDR2's pre-release, and even now with the lack of a GTA VI announcement.
In August 2011, two months prior to GTA V's announcement, Take-Two held one of these conferences, in which they expected a large increase in their price per share for Fiscal Year 2013.
Now, for some additional context, Fiscal Years aren't the same as Calendar Years: in corporate finance, a Fiscal Year usually goes from April, to March of the following year – meaning that Take-Two's Fiscal Year 2025 would go from April 2024, to March 2025.
With that out of the way, in 2011, when Take-Two announced this suspicious increase in their expectations for Fiscal 2013 (April 2012 – May 2013, remember that GTA V was originally slated for Spring 2013), our own Kirsty here at GTANet made some interesting observations that can still be seen via the Web Archive.
Take-Two had increased their net income expectations for Fiscal 2013 to values only seen with the release of GTA IV – a net income of $2 per share;
Take-Two's average dollar per share value at that moment was projected to reach $0.35/share (remember T2 didn't have GTA V here yet to make this number big), with the releases of LA Noire and Duke Nukem Forever.
Red Dead Redemption's release in 2010 had reached $1.06/share as a comparison.
Putting all those numbers into perspective, you can imagine how the sudden increase to $2 per share was suspicious to investors (in a good way) and fans alike. And indeed Kirsty's analysis was correct.
Two months later in October 2011, GTA V was announced. Without a date, but it seems clear that Take-Two/Rockstar already had something in mind, as is usual in game development – minus delays of course, which did happen.
Throughout the years, these kinds of increases have pretty much always matched a Rockstar release, RDR2 included.
---
The Now
Take-Two is a much bigger beast than it was in 2011. It has bigger IP, more studios on their roster, and GTA Online exists, which brought their numbers hundreds if not thousands of times up.
Despite this, it's still very easy to analyse when something is "off". To this day, Rockstar releases are still the only ones that drive up revenue for Take-Two the most. Sure, they have other games and IP that do well, but not over 2 billion in net revenue well.
Indeed, in today's earnings press release, Take-Two says it expects net bookings in the range of $5.45 to $5.55 billion for Fiscal 2024 (Apr 2023 – Mar 2024)… and a whopping eight billion for Fiscal 2025 (again, Apr 2024 – Mar 2025). Their net bookings for Fiscal 2023 (ended this March) were of $5.28 billion, much more comparable to their forecast for Fiscal 2024.
Now, that is a major increase of $2.7 billion in just one fiscal year, something that hasn't been happening even with the ongoing success of GTA Online. Take-Two currently has Judas in the pipeline from the makers of Bioshock, alongside potentially a new Mafia game, but neither of those two games can pump up the numbers that much – they may sell well and may be anticipated IP, but we're talking a difference of multiple billions in net revenue here.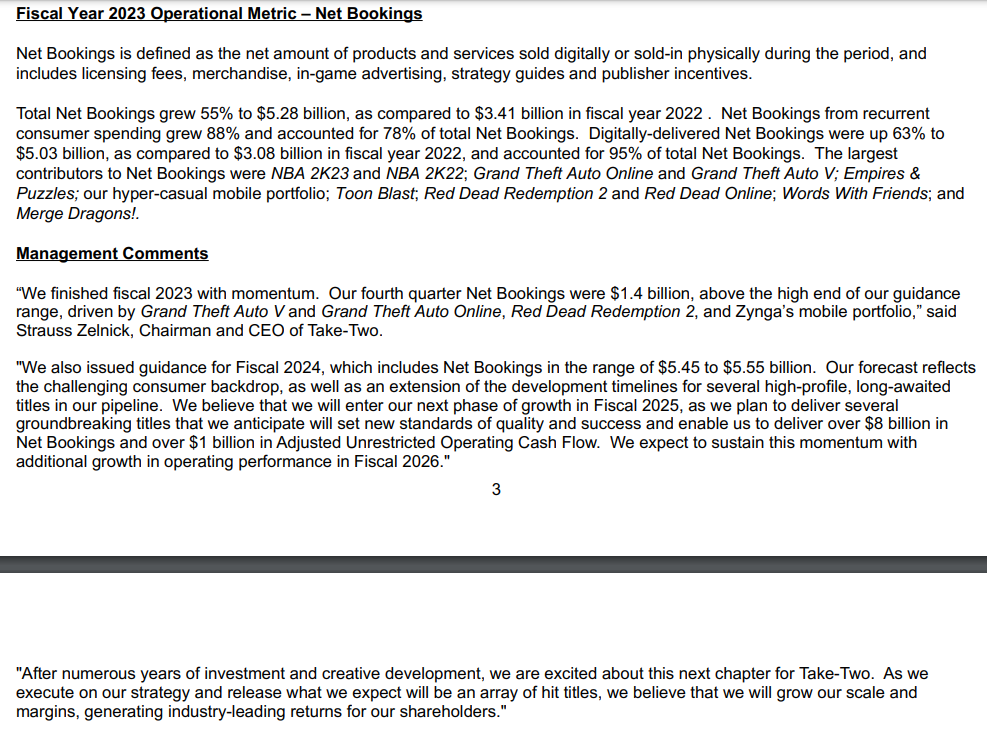 I'm sure by now you can draw the parallels. This looks incredibly similar to what happened in 2011. Not even releases like Red Dead Redemption drove revenue up as much as, for example, GTA IV did, and GTA V was expected to. Now Take-Two, for the first time in a long time, are expecting a major increase in their net revenue for Fiscal 2025, something that historically only Rockstar releases have done. This is most likely, almost without a doubt, Grand Theft Auto VI.
They expect to sustain the big Fiscal 2025 forecasts all the way to Fiscal 2026, which would imply one of those "groundbreaking titles that (…) will set new standards of quality and success" is expected to continue to sell like hotcakes. Again, most likely GTA VI and/or it's online component.
Let's look at the wording as well, this is the same kind of wording Take-Two used to describe Rockstar's next GTA game, which can be seen in this PCGamer article, which I'll quote below.
"With development of the next entry in the Grand Theft Auto series well underway, the Rockstar Games team is determined to once again set creative benchmarks for the series, our industry, and for all entertainment, just as the label has done with every one of their frontline releases," said Take-Two CEO Strauss Zelnick during [September 2022's] financial update."
Investors know this just as well, and have noticed it, as Take-Two's stock skyrocketed after-hours.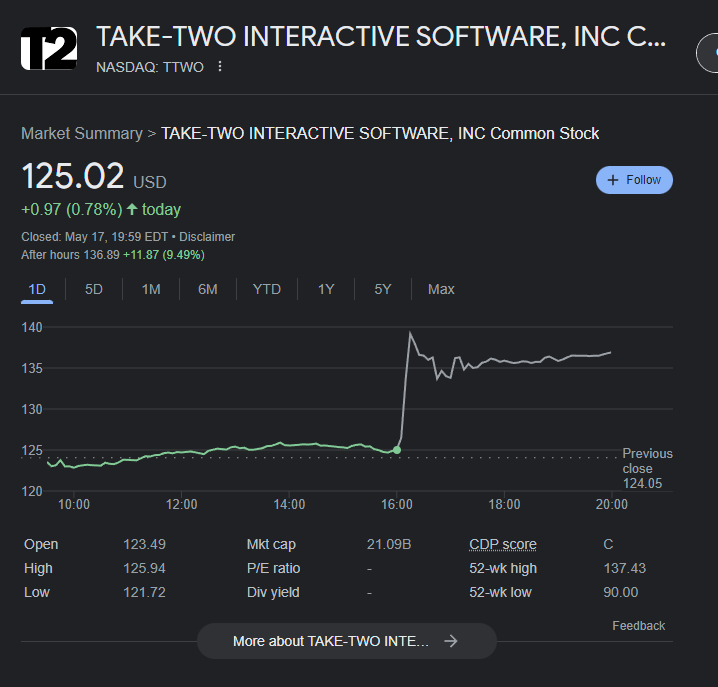 ---
Remarks on Delays
Now, of course you might be saying "pfft, it'll probably be delayed". Maybe, of course. These are just forecasts, but they are a bigger piece of bread in a world of breadcrumbs – after all, GTA V was delayed too, and the big numbers did mean it was coming.
Many high-profile games have gotten delayed recently, Rockstar does delay most of their game releases, but we don't know if they're not going to attempt to go for a different strategy here – announcing when the game is further into development, avoiding delays as much as possible, so on and so forth, in a much different gaming industry landscape than the one in 2012/2013.
We'll have to wait, but I think there is a lot of fodder here to say… we might be closer than we think to the big announcement if Fiscal 2025 truly is their target, and if it's potentially coming out in, say… Autumn 2024. Rockstar likes marketing their games, and if this one is as big as it seems to be… they'll want to talk about it quite a lot, maybe sooner rather than later!
🌴
If you've skipped to here because you find this too chonky, find a tl;dr by our GTAForums moderator Jason, included in our hype-filled GTA VI speculation thread.