This month, it's time for Naturalists to shine! Visit Harriet to deliver some samples for a bonus (and perhaps get a bit of spray on your threads), or Gus for rewards, find bonuses on Legendary Animal Sighting Missions, Free Roam Events, Featured Series bonuses, Blood Money Opportunities and more!
Much like the GTA Online posts, it is a preview so information may be subject to changes or corrections.
We understand that not every Event will be to everyone's liking, some will certainly be more exciting than others, but anyway…
Let's get started!
Naturalist Bonuses – Please Think of the Animals?
This month, and until the 31st July, Naturalists all across the five states can enjoy bonuses on what they do best… depending on their inclination, that is. If you're a Naturalist who cares about your local animals' wellbeing (yes, including that grizzly that nearly killed you), you can meet Harriet at her mobile tent and sell some samples this week for multiple bonuses – keep it respectful and she won't get the mythical spray out!
If you're otherwise a natural hunter and just roam the forests and plains for a kill or a high quality pelt, then Gus will have something for you as well, although Harriet seems more inclined to give you some attention this week as long as you aren't too naughty!
2x RDO$ and XP on Naturalist Sample Sales
Craft a coat or trinket at Gus' stand to receive 42 rounds of Buckshot Incendiary Shotgun Ammo
Log-in any time this month to receive 2 Potent Predator Baits and 2 Potent Herbivore Baits
Sample a Legendary Animal to receive the Tan and Black Furred Gloves

Sell samples to Harriet each week, and you can get:

11th – 17th July: Offer for 40% off a Novice or Promising Naturalist role item
18th – 24th July: Offer for 40% off an Established or Distinguished Naturalist role item
25th – 31st July: Reward for the Lake Isabella Treasure Map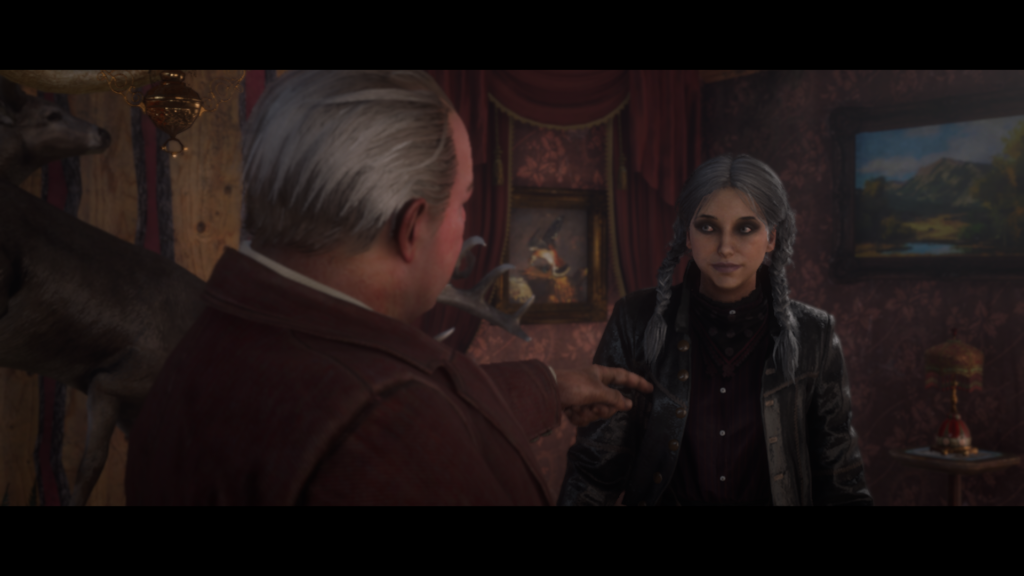 Miscellaneous Bonuses – Featured Series, Legendary Animal Sightings, Free Roam Events and More
This month, the Featured Series calendar comes back with an assortment of weekly modes to enjoy, from regular series to Hardcore series. Legendary Animal sightings will also be in vogue this month for any kind of Naturalist. If you like channelling your inner Albert Mason, and your thing is photography and studying animals, there's something for you as well, with bonuses on Wild Animal Tagging and Wildlife Photography.
Miss the word "capitale"? I'm sure you do – clothing rewards this month await for those who complete a Blood Money Opportunity.
2x Role XP and regular XP on Legendary Animal Sighting Missions
2x RDO$ and XP on Wild Animal Tagging and Wildlife Photography Free Roam Events
Complete a Blood Money Opportunity to receive the brown Morales Vest
Complete a round of the Wildlife Photography Free Roam Event to receive a Tan Raccoon Hat
Hunt any Legendary Animal to get the Tan Diamondback Hat

2x RDO$, Gold and XP on the Featured Series, whose calendar follows:

11th – 17th July: Hardcore "Head for the Hills"
18th – 24th July: Hardcore "Plunder" and "Spoils of War" Series
25th – 31st July: Lemoyne Series
Discounts
Until the end of this month, find an assortment of discounts on all kinds of apropos gear, weapons, clothing and more.
30% off
Novice and Promising Naturalist Role Items
Gus' Garment Sets and Trinkets
All Repeaters
All Chaps, including the returning Shaffer Chaps
35% off
Fishing Rod
Special River, Lake, Swamp and Spinner Lures
Regular River, Lake and Swamp Lures
40% off
Potent Herbivore and Potent Predator Bait Pamphlets
Advanced Camera
Bow, Pistol and Rifle Ammo
Gold Bar Discounts
10 Gold Bars off the Naturalist's Sample Kit
This Month's Community-Inspired Outfit
Weather in most of the states is usually fair, whether it's Summer, Winter, Autumn or Spring, so a mid-season outfit like this one created by /u/RanaAzul on Reddit fits just fine for most situations. That is, unless you intend on visiting Ambarino – buuut it may be appropriate for the desert heat of New Austin. Until the 31st July, find freebies inspired by the linked Reddit community outfit:
Puff Tie
Cuffed Down Pants
Traditional Vest
Frill Shirtwaist (F) | Collar Overshirt (M)
Riding Habit Jacket (F) | Worsted Coat (M)
Homestead Boots (F) | Cobbled Boots (M)
Sagemoor Hat (you can claim the Sagemoor Outfit for free this month if you're a Naturalist Rank 5 or above)
A specialised image of this month's Community Inspired Outfit will be available from R* themselves.
As this is a preview, any information in this post is subject to change and any corrections or missing details will be added as found.