Phew, it's been a bit of crazy day, folks! The hype train started promptly this morning as the community prepared for Red Dead Online's first content update since December 2019. Having only been announced just a few days ago, players were flocking in excitement before the update finally dropped just after 2pm UK time. We had over 1000 people within our Red Dead Online forums on GTAF at one point, breaking previous records for the section!
Anywho, what did Rockstar give us? Well lets break things down!
The Naturalist Role
The main star of the show the new Naturalist role, an all new Frontier Pursuit that players can buy into and progress up to rank 20 and earn rewards at the same time. The role is introduced with it's own amazing piece of artwork (my favourite yet!) and a trailer.
The trailer features new Online characters, eccentric animal protector Harriet Davenport and burly fur seller Gus Macmillan. The concept of the new role involves studying animals, sedating them, collecting a sample and taking a photograph, before using some reviver to let them bounce back into the wild. Each animal you perform this on gets saved as an entry in your Animal Field Guide, which contains multiple categories separated by animal type. This also introduces us to sets of Legendary Animals, rare beasts around the map that take more wit and stealth to track. When you've completed 100% of each animal study, you can sell the entire collection to Harriet for a nice sum of money.
Amongst all this however, if you're not quite into conservation, you can kill and skin the animals instead and go and sell these to Gus Macmillan, who is Red Dead Online's version of the trapper. Gus has performance trinkets and fur-lined clothing for sale in exchange. Time it well, though, because Harriet will be a little bit upset with you if you continue to do this!
In essence, it's almost a concoction of the animal compendium from singeplayer, the Collector role and the rumoured Photographer role. As you progress through, there are special items and boosts to unlock, and Harriet also has some of her own missions to offer, much like Moonshiner Maggie, which gives us the opportunity to free some animals from poachers.
While it may not be for everyone, this slower paced role offers a unique way to get back into the wild with your boots on the ground, and we're enjoying it so far! You can purchase the Animal Sample Kit from Harriet in Strawberry for 25 Gold.
Outlaw Pass 3
The along awaited follow-up to previous passes arrived as well today. With a 40 Gold price tag, purchasing the Outlaw Pass 3 enters us into a unique club to get some extra rewards as we earn XP. There are 80 levels to rank through and by the time you reach the end you'll get your 40 Gold back, plus a plethora of unlocks including new camp flags featuring location crests, a new camp doggo (no catto, BOOOO), themed clothing, portrait poses and some neat belt buckles.
You can buy the pass via Social Club or via the catalogue. It'll be available until 19th October, so there is plenty of time to achieve everything before the opportunity is gone for good!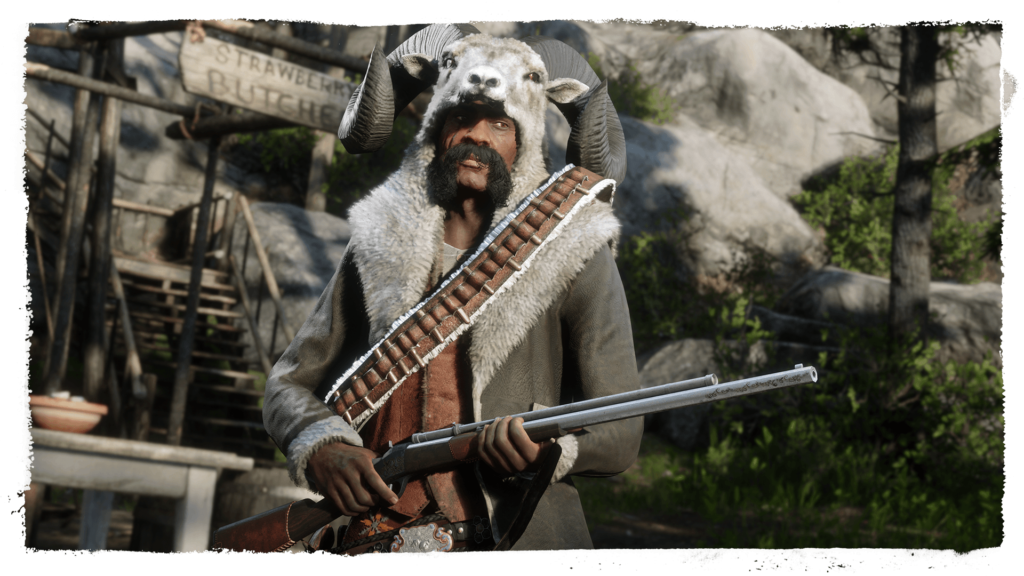 The best bits, in summary
New Naturalist role, costs 25 Gold
7 Legendary Animals to discover as part of the new role
The trapper is now in-game (as Gus Macmillan)
Naturalist-related Free Roam Events
Trinkets (like singleplayer)
Wilderness camp (set a basic camp anywhere via Naturalist)
Improved Bow
Elephant Rifle
Advanced Camera (more movement and filters)
Meat now appears on item wheel
Updated daily challenge menu
Outlaw Pass 3, costs 40 Gold
Camp flags (via OP3)
New camp dog (via OP3)
New weapon customisations
New emotes
2 new hairstyles
Weight loss/gain tonics (via Naturalist)
Mercy Kill skill (via Naturalist)
You don't need to wear a blouse with the corsets anymore
New photo backgrounds and poses (via OP3)
Buy Max options in shop menus
Collector cash/XP unchanged, but cycle randomisation has been adjusted
and 250+ bug fixes that have improved matchmaking, animal spawning and several other bugs and glitches that affected players!
And no, before you ask, there's still no Rockstar Editor or private lobbies at this moment in time, but I'm sure the community will be letting Rockstar know how much these are still wanted! It appears from some locked areas in shop menus that we may also be getting "dripfeed" content over the next few weeks, so you never know what may arrive later on.
Well, that's that! There's a lot more to learn about this new update that we can only do by playing it, so you can find us on GTAForums and Twitter as we explore and research Red Dead Online as a Naturalist. During my short playing time this evening, I can say I already love the new character Harriet, lobbies have been friendly and animal spawns have been plentiful, so we're already off to a great start.
The community is sure to start gathering a wealth of information on how to easily progress as we continue to learn, and we will be re-posting what we can across our channels. I'm sure there's a lot to see amongst other Rockstar communities on Reddit and Discord as well. We'll feature anything interesting things we find, and you can look forward to some snap highlights from the community using the new Advanced Camera.
As a sidenote, for all we have moaned about communication, it goes without saying that a massive thank you is in order to all the developers and QA who have managed to get this update out while working from home, it can't have been easy to organise. I'm also in awe of whichever talented artist is responsible for the new artwork.
You can read the official Patch Notes here if you want a big list of everything that has been amended, and take a look at the Newswire article for a fancier rundown.