After releasing "CircoLoco Records & Nez Present CLR 002", which had already featured in the GTA Online: The Contract update, and the release of the CircoLoco Records' Monday Dreamin' EP on vinyl, Circoloco Records comes out with a brand-new release, featuring big UK electronic music scene name Skream (which is personally great to see signed to the label!) and Glasgow-hailing Jackmaster, a "self-confessed super fan of Detroit techno", who came together to release The Attention Deficit Track.
With the track also comes a cheeky pre-order on Beatport for The Attention Deficit EP, releasing on 15th July, which features two more tracks, one by Skream and another one by Skream and Jansons, whose tracklist can be seen below (first two are available today):
Skream & Jackmaster – The Attention Deficit Track (Edit)
Skream & Jackmaster – The Attention Deficit Track (Terrace Mix)
Skream – Floral
Skream & Jansons – Track 3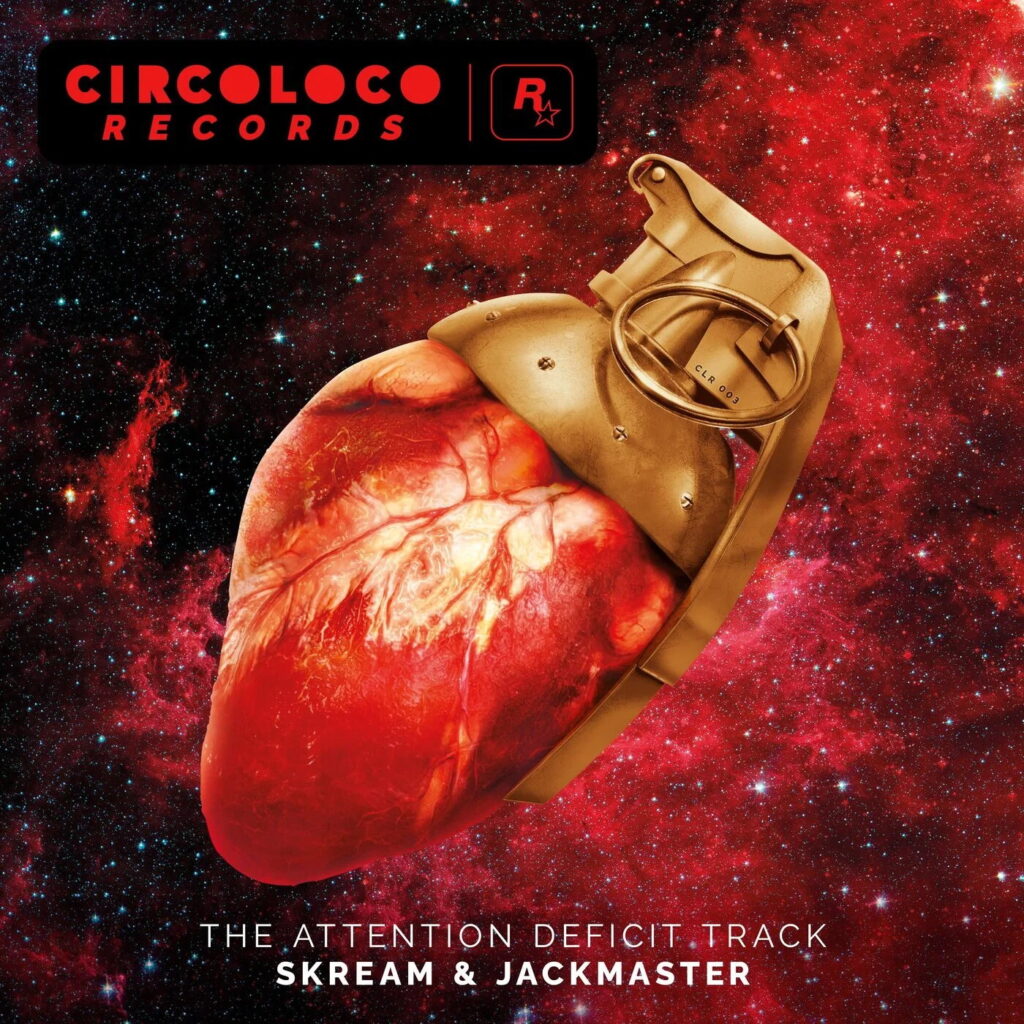 Spider Speaks – The "Reviews"
As per usual, I'll be dropping a few words about each track, as the muncher of both electronic and non-electronic music that I am on my day-to-day. I'm not really a clubber, used to do it a bit more in my uni years, but bopping your head with club tracks at home has nothing wrong with it. I'm going to include preliminary reviews of the Beatport previews of the 2 tracks releasing on 15th July – the previews are only one minute long.
Skream & Jackmaster – The Attention Deficit Track
First off, seeing Skream on a label like CircoLoco was completely unexpected, given I knew him from other places, and even from a remix he made for Anjunadeep.
That said, this track is obviously a late-night techno/tech house club banger and not as much of a home listener, depending on your tastes. It starts out with a simple 909 kickdrum which then soars into a full-on 909 percussion pattern which is absolutely catchy to the ears – from open and closed hi-hats, to pitch-varying toms, claps, snares and so on.
The vocal loop is not really my cup of tea, but it seals the deal about it not being a track that is to be listened at home necessarily, as the entire feeling of the track would change in a club. I feel like it is a little too repetitive, but, it laced with snare rolls, claps, and other 909 pattern shenanigans, along with a few changes in progression makes it a bit more tolerable.
All-in-all the percussion is extremely good, but the vocal loop might be more jarring to listen to at home, depending on your tastes, or if you're dancing to the heavens at a home-made club, of course. It's a bopper, but more of a club bopper, if anything.

—-

Skream – Floral
To me, this is where it gets extremely good. A very familiar breakbeat sound coming from Skream, once again featuring incredible 909 and 909-inspired percussion patterns and a background moody melody, along with a breakdown whose structure makes it reminiscent of old Trance tracks of the 2000's, "exploding" right back into the breakbeat pattern after it.
In this case, the vocals themselves are ethereal and fit the mood and melody of the track perfectly, it's my favourite of the bunch and I can see myself listening to it quite a lot. It's reminiscent of the releases by Belfast's Trance Wax on Anjunabeats (and even outside it), and I hope this makes it to GTA Online in one way or another.

—-

Skream & Jansons – Track 3
This track introduces the influence of Jansons, another UK producer I honestly didn't know about. Some familiar percussion comes back in this one, except it's definitely more Disco influenced with its repeating effects, small melodies, disco-ey bouncy bassline and so on. It reminds you of something you'd listen to in a club a couple of decades ago, but modernised, and it's pretty catchy and definitely more friendly for both club and home enjoyment. I'd say it's my second favourite of the bunch, I think?
All-in-all, the new track and the associated EP (releasing later) shows how eclectic CircoLoco is willing to get even within the genres it's focusing on.
The hip hop release with Nez was a little more unexpected, and less my cup of tea as, as eclectic as I might be with my music tastes myself, it's just not the style of music I usually listen to. I look forward to seeing more known artists signed to the label, and more tracks like Floral, honestly, but that is me being biased towards breakbeat!
The EP isn't bad, but is indeed a mix of more club-friendly tracks and a couple of home-friendly ones. The first one, unless you really like techno, might not be for you, especially due to the repeating vocal which definitely does seem to imply you'll be uncontrollably dancing in a club of this sort – after all it is The Attention Deficit Track!
Where can I get it?
This only refers to today's release of the first track, The Attention Deficit Track and not the entire EP just yet.