Rockstar have just updated the official GTA V website with specifics about the Special and Collector's Edition, along with a special Pre-Order bonus!
PRE-ORDER BONUS

Pre-ordering either of the editions, including the standard one, will grant you access to the fabled Blimp, which has been the subject of many a discussion, especially concerning whether or not it was actually driveable.
SPECIAL EDITION
The cheaper of the two extra content laden editions contains the following:
Collectible steelbook with exclusive artwork
Blueprint map
Stunt Plane Trials
Special Ability Boost
Bonus outfits, tattoos and more
Additional weapons
Click here for all the details!
COLLECTOR'S EDITION
This is the full package, containing everything a die hard GTA fan could want:
Collectible steelbook with exclusive artwork
Blueprint map
Grand Theft Auto V New Era 9FIFTY Snapback Cap
Grand Theft Auto V Security Deposit Bag with Logo Key
Stunt Plane Trials
Bonus outfits, tattoos and more
Custom characters for Grand Theft Auto Online
Special Ability Boost
Unique vehicles and garage property
Additional weapons
Click here for all the details!
Along with all this, the aforementioned Blueprint Map is depicted both in rolled-up form and as a partial cut out, leaving a good portion of the map visible. This prompted forum member gorgeprofondegta4 to reconstruct the map from the few snippets shown: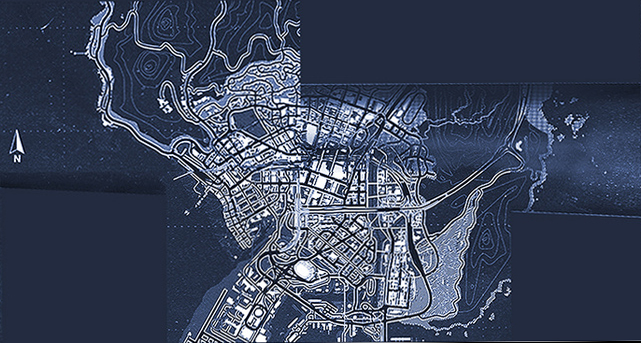 This really gives us a good look at a vast portion of the city, and parts of Blaine County. He also scaled it to the listed proportions of the map, showing that it's quite a bit larger than the visible areas, leaving lots of space for a few smaller towns, and much more countryside. Check out his post at the forums – splendid work!
New Vehicles and Weapons!
In addition to the Atomic Blimp, the return of the Stunt Plane was also confirmed, this time in the shape of an Extra EA-200, which is quite a popular model. Ordering the full Collector's Edition will also grant you a Hotknife, which looks bloody gorgeous, and the CarbonRS sports bike seen earlier in a screenshot on May 7th. Online, players will get access to a high-end electric car called the Khamelion.
Owning the Collector's Edition will further hook you up with three free exclusive weapons: The Bullpup Shotgun, Pistol .50 and a hammer. What else could you ever need?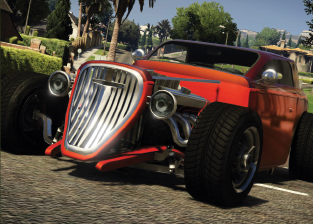 Join in on the discussion at the forums!