IGN got an opportunity to interview Dan Houser (Rockstar's VP of Creative) and Aaron Garbut (Rockstar North's Art Director) about the making of Grand Theft Auto IV. You can read the first part of the feature now, which contains 11 pages in total. It discusses the origins of the storyline, the creation of Niko Bellic, the new dynamic relationship system, and lastly the setting – what went into building Liberty City.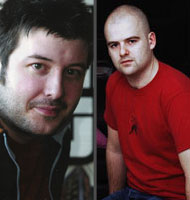 "The fundamental other change, it's difficult to talk about this because people get very confused about what we're saying and to think it's multi-branching… There are plenty of sections of the story when you manipulate outcomes and have choice over the outcome as the player, some of which fundamentally change the story, but it's not like there's 10,000 different options because, again, that wouldn't make sense for the character, where he is in the world because he's fundamentally being pushed around by more powerful people. But you have plenty of good points where it makes sense logically, in terms of the choice you're given and narratively, you get to make choices and that's kind of a fun twist on a GTA game."

Dan Houser
Some other interesting points are mentioned, for example Houser says that New York was chosen as the setting because Rockstar had never "tried" to do New York before. He states the previous Liberty City was only loosely based on New York, and contained elements from other cities on the East Coast such as Boston and Philadelphia. The primary aim of GTA III (according to Houser) was to create a 3D world and not to create an accurate representation of New York City – which is what they're trying to do now with GTA4.
The second half of the interview will be released on Monday and covers the gameplay aspects of GTA IV. Thanks to raooul_duke for the heads up.