This week and until 16th August in GTA Online, get ready to take part in an island battlefield with the introduction of Assault on Cayo Perico! The Weaponised Conada is also being introduced, alongside the reintroduction of some classic Adversary Modes, bonuses on Bunker Sale Missions for those holding on to their weapons and getting ready for the Assault on Cayo, and more!
Remember this is just a preview, and information may change. On top of that, Rockstar may reserve things for their own Newswire.
We understand that not every Event Week will be to everyone's liking, some will certainly be more exciting than others, but anyway…
Let's get started!
---
The Assault on Cayo Perico is Coming, and More Adversary Modes Reintroduced
The moment a lot of the community has been waiting for is here. First teased in the San Andreas Mercenaries launch post, El Rubio is about to have an entirely different problem to deal with – and that is players battling it out like there's no tomorrow, like you're in a Call of Duty (Righteous Slaughter?) map, in his island of Cayo Perico. Starting 10th August, the Assault on Cayo Perico adversary mode will be available – it pits teams of Attackers and Defenders against each other in an intense crossfire across the island – and it's paying double!
On top of the introduction of the new mode, other ones are making a comeback, as listed below!
2x GTA$ and RP on Assault on Cayo Perico
Some classic Adversary Modes coming back:

Occupy (secure and hold capture zones across the map and fend off others)
Extraction (evacuate the VIP ASAP as a bodyguard before the Hit Squad gets to them!)
Trading Places Remix (the Beast and the Juggernaut go head-to-head, fighting teeth, minigun and nail to… well, trade places in the winning spot)
---
Dust Off Your Bunkers – It's Sale Time!
Plus Bonuses on Ammunation Deliveries and the Introduction of the Weaponised Conada
If you've been holding on to some weapons to sell whenever a bonus week comes along, this is your time to shine. SecuroServ has arranged some interesting deals this week that not only give you more money for your weapons, but also speed up your research and give you triple money for your Ammunation Contract Deliveries. Alongside those boosts, find rewards for completing a Gunrunning weapons resupply mission and an Ammunation Contract.
Also, if you thought your Conada was cool and fast, just wait until you can buy a weaponised version. Oh wait, you can starting this week, with the release of the Weaponised Conada, which you can get from Warstock Cache & Carry.
Don't forget to visit your Daily Stash Houses often as they might conveniently fill your Bunker!
2x GTA$ and RP on Bunker Sales Missions

Complete a Bunker Sell Mission to get the Ammunation Baseball Tee

2x Bunker Weapon Research Speed
3x GTA$ & RP on Ammunation Contract Missions (deliveries)
Complete a Gunrunning Resupply Mission and an Ammunation Contract to win the Atomic Rally Spec for the Maibatsu MonstroCiti within 10 days of completion.
---
Discounts
With bonuses on Bunkers and a bit of a military showdown in Cayo Perico, this week and until 17th August, find some apropos discounts across properties, vehicles and weapons.
30% off
Explosive Weapons

Railgun
Rocket Launcher
Sticky Bombs
Molotovs
Homing Launcher
Remote Bombs
Proximity Mines
Grenade Launcher

Bunker Properties, Upgrades and Modifications
40% off
Mk2 Weapon Upgrades
HVY Nightshark
HVY Insurgent
Ocelot XA-21
Annis Euros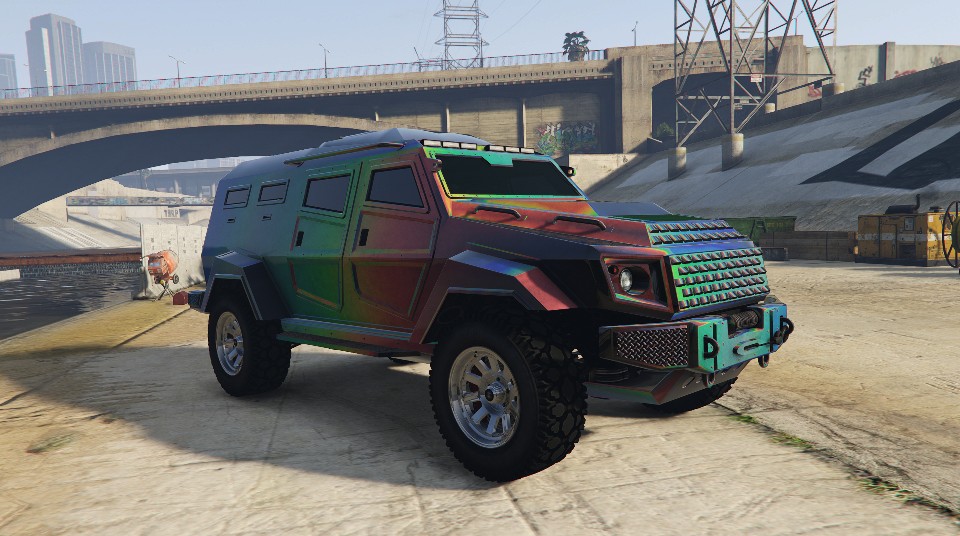 ---
Miscellaneous
The Diamond Casino & Resort Lucky Wheel
Sources at the Diamond Casino & Resort tell me that they've been a bit concerned about the parade of military vehicles and assets being brought into Los Santos again, but that they think it's nothing, just some more Merryweather posturing… of course they all got distracted (poor Felipe is once again hospitalised due to constant aggressions over at his valet spot) as soon as they saw this week's Lucky Wheel vehicle coming in.
A classic off-roader buggy introduced with the DLC they all hate every time somebody executes it (Diamond Casino Heist), but one they have a soft spot for. Allegedly.
Get the Nagasaki Outlaw this week at the Lucky Wheel – should Luck be on your side, you'll have quite the nifty machine for your mountain adventures. Southern San Andreas Super Autos also claim this will "drown out your mum's disappointed speeches about growing up", but I can't guarantee that.
LS Car Meet Prize Ride
What's better for the American population, especially one seeing all this military stuff happening, than an SUV? Sure, you may argue that it doesn't belong in a tuner-focused garage event, but you'd probably be surprised to know that a lot of tuner-heads will like their heavies – both modern and vintage.
This week, place Top 5 in LS Car Meet Series for 3 days in a row, to win the Pegassi Toros. Legendary Motorsport claim it's a mix of the 23rd century and a family-friendly SUV…
If SUV's are not your thing, and you want something else, enter the Test Track! This week, you can find the following rides to test or buy as appropriate:
Dinka Veto Classic (spicy addition to a tuner car meet! Go-kart meet anyone?)
Pegassi Reaper
Annis Euros (also 40% off)
Hao seems particulary excited about this week's addition to his Premium Test Ride spot… a weaponised car! If you're on PlayStation 5 or Xbox Series, find the Pegassi Weaponised Ignus for testing or buying.
Premium Deluxe Motorsport
I think this one has scared Simeon. But he is a strong man with a strong stomach, or so he says. His shiny showroom includes some military vehicles this week, alongside a Super and a classic Walton. What's not to love? This week at PDM:
Mammoth Squaddie
Pegassi Zorrusso
Declasse Walton L35
HVY Nightshark (also 40% off)
HVY Insurgent (also 40% off)
Luxury Autos
Luxury Autos has a mix of the retro and modern this week:
Pegassi Torero
Ocelot XA-21 (also 40% off)
Time Trials and Premium Races
Ah, races against time. You'll either be biting your nails off about it, falling off mountains, destroying your remote car controller in a fit of rage, or, well… just winning. This week across the state of San Andreas, find the following time trials and premium race:
Super Premium Race: Senora Freeway
Regular Time Trial: Route 68
HSW Time Trial: East Vinewood to Vespucci Beach
As this is a preview, any information in this post is subject to change and any corrections or missing details will be added as found.