Drug Wars Rewards end, alongside its Event, with the introduction of a Biker Week! Find bonuses on Biker Sell Missions, speed-ups on production, double awards on MC Club Work and Challenges, and More!
A new Event Week is upon us! This week will be Biker focused, as mentioned above. Remember that this information may be subject to change as it is a preview!
We understand that not every Event Week will be to everyone's liking, some will certainly be more exciting than others, but anyway…
Let's get started!
---
Are you Lost, or Damned? This Week's Biker Bonuses
Through the 5th April, Motorcycle Club bosses and prospects can open up shop again, as an assortment of 1.5x and 2x bonuses will be available for Biker Businesses, resupplies, production speeds and more! Don't think that Dax's Acid has been forgotten, as there will be bonuses for selling that to buyers around LS.
2x GTA$ and RP on Biker Sell Missions
2x Supplies on Biker Resupply Missions
2x Production Speeds for Biker Businesses
2x GTA$ and RP on Motorcycle Club Work and Challenges, alongside Clubhouse Contracts
1.5x GTA$ and RP on Acid Lab Sell Missions
---
Adversary Mode Bonuses – Inch By Inch
Do you ever feel like time passes really slowly? When you look at the clock and it's 4:59pm, two hours later, you look at the clock again and it's still 4:59pm. Work never ends, does it? Inch by Inch, you'll get there, and that is this week's Adversary Mode Bonus.
Originally released with Lowriders, this Adversary Mode has players taking a package in the centre of the playing area, to the opposite side of the map in less than 5 minutes. Take cover, don't die, and think of it as a Biker Business sale. Deliver that package. Go!
It's on 2x GTA$ and RP.
---
Discounts
Through the 5th April, find discounts on Biker Clubhouses and associated upgrades/modifications, if you for some reason don't own one yet, alongside discounts on a few vehicles.
30% off
Gauntlet Hellfire
Windsor Drop
Progen GP1
Vysser Neo
40% off
Biker Clubhouses, Upgrades and Modifications
Biker Businesses
---
Miscellaneous
This week and through 5th April, find some new toys over at Simeon's business (how has someone not driven another car through its window again in 10 years?), Luxury Autos and the Los Santos Car Meet. Lucky, or unlucky gambling fans can spin the wheel go get a vintage looking sedan.
The Diamond Casino & Resort Lucky Wheel
At the Diamond, find the Enus Stafford sedan. A vintage beauty that harks back to the days of Los Santos noire – you'll get one if you're lucky this week, just be careful of that one singular P&Q, or that clothing item you've unlocked in 2013, but the Casino decides to give it to you again. Sounds like they're needing to be heisted.
LS Car Meet Prize Ride
Over in the Los Santos Car Meet, find the Dinka Veto Classic, awarded to you for placing Top 3 in Street Race Series, 3 days in a row.
If you need Hao's help for some extra speed on PS5 and Xbox Series, find the HSW Karin S95 as this week's Premium Test Ride, alongside the following in the regular Test Track:
Enus Jubilee
Gauntlet Hellfire (also 30% off)
Ocelot Swinger
Premium Deluxe Motorsport
Vapid Retinue Mk 2
Progen GP1 (also 30% off)
Enus Windsor + Drop variant
Annis Elegy RH8
Luxury Autos
Vysser Neo (30% off)
Pfister Neon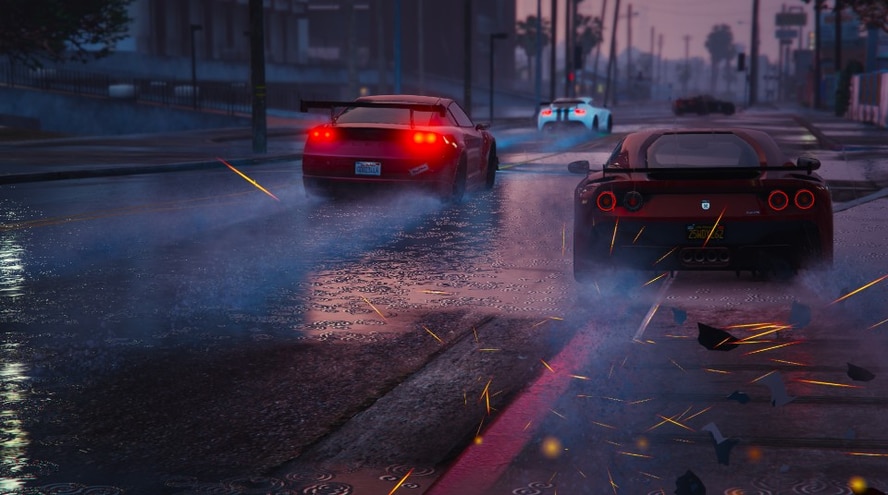 More info on the Rockstar Newswire
As this is a preview, any information in this post is subject to change and any corrections or missing details will be added as found.