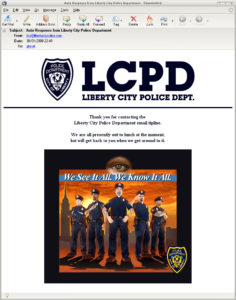 From Grand Theft Auto III to San Andreas, Rockstar has been known for creating small teaser sites that make reference to entities found in the GTA games themselves. By the looks of things thus far, Grand Theft Auto IV is no exception. We've known about the site for WKTT Radio — an uber-conservative talk radio station found in GTA IV — for some time now, and according to Adriaan over at Planet GTA, it looks like Rockstar has more goodies up their sleeve.
As part of Rockstar's real-world guerrilla marketing campaign for Grand Theft Auto IV, a reference to the Liberty City Police Department (LCPD) website was made through the request for "tips from witnesses".
From Adriaan's news post:
"As part of the viral campaign, they listed an e-mail address where you can send in "tips" to LibertyCityPolice.com, a website which undoubtedly will be accessible inside the game's internet function. The website isn't live yet on the real world internet. However, when you send an e-mail to the address [email protected], you get an auto responder…"
Editor's Note from Andy: From a marketing perspective, this is absolutely brilliant. From a gamer perspective, it's even more brilliant. From an advertising student's perspective, it makes me ridiculously giddy to see Rockstar doing something like this. Woo!
Have an opinion you'd like to share about this latest development? As always, you can get in on the discussion over at GTAForums.
(UPDATE – JANUARY 31, 2008) New posters of Little Jacob (?) and Elizabeta have emerged. Thanks to our friends at GTAGames.nl for the update. See all of the GTA IV wanted posters below: