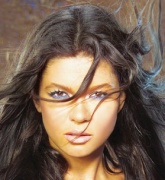 While we've seen some tremendous voice talent in past Grand Theft Auto games, this is still something Rockstar Games tend to not make an emphasis about, or even use it as a way to market their games, as similar game publishers tend to do.
Even so, we have news today about the first voice actor announced for Grand Theft Auto IV. As reported by Esctoday, on the website of the winner of the 2004 Eurovision Song Contest, Ruslana, it is indicated that the female singer will be traveling to New York City to record the voice of a certain character in the game, which currently is to be remained secret. In addition to voicing, some of her older and newer songs will be featured on the soundtrack of the game.
While we can't say at this time which character she'll be voicing, it is worth noting that she is Ukrainian, thus giving an indication on what sort of character to possibly expect. For more on Ruslana, visit the links below…
Related: Ruslana's Official Website & Wikipedia Entry
Thanks, R_sPeEd, for spotting this one.
EDIT on June 5th: As I had predicted, the information from the website was pulled, probably per request by Rockstar Games. It appears to have been taken down from Esctoday as well.