Too long, don't wanna read? Visit our Online Bonuses page for a bullet point list of events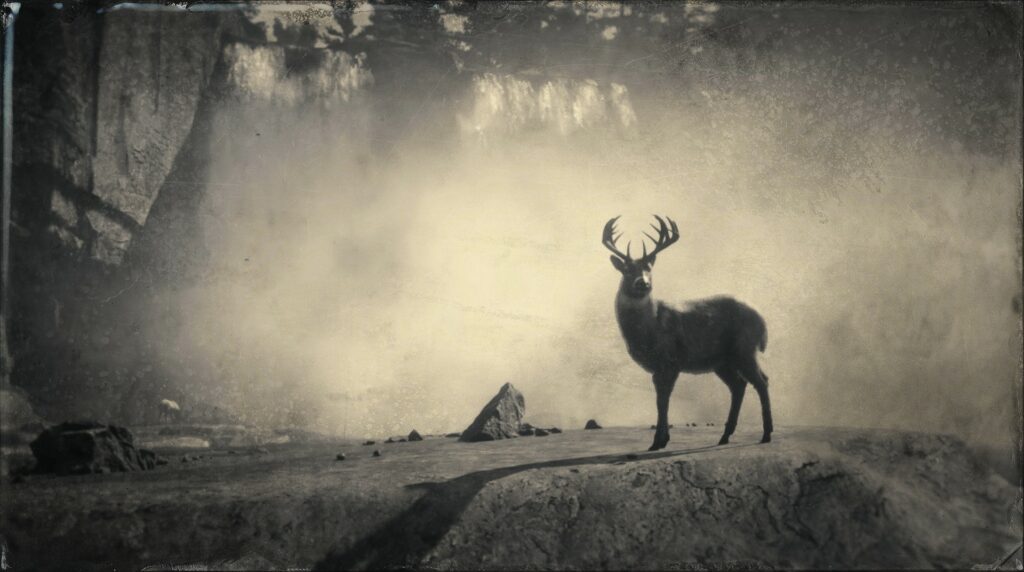 A curious week in Red Dead online as today more dripfeed content is released.
New Legendary Animal
The Legendary Shadow Buck is part of a new Sighting Mission that takes us tracking in the north, around Annesburg. Take a sample of the all-black deer to receive a free vest and 100 rounds of sedatives, or choose to kill and skin it for 100 rounds of express repeater ammo. If you choose to buy the Shadow Garment from Gus after skinning, you'll also receive a free bandolier.
Discounts and Bonuses
Fancy a free hat for your collection this week? All it'll take is a win at any of the featured Hardcore Takeover Series modes. In the savings department, we've got a 40% discount off all outfits, offhand gun holsters and gun belts, plus 30% off all repeaters.
Red Dead Online Peyotes
A new feature on the frontier this week is Red Dead Online's version of peyotes. You'll remember the psychedelic cactus plants from GTA V and GTA Online that allowed us to run around as a random animal after consumption. In Red Dead Online, Harriet brings a similar peculiarity to the table.
Visit Harriet to accept her leaflet on Vitalism Studies and she'll inform you that collecting her newly discovered plant, Harrietum Officinalis, will allow us to "connect" to the animals around us like never before. Once you've collected these plants, visit a special location to turn in a buck for 5 minutes. It seems as though Harriet may be adding more animals to her Vitalism Studies research project as time goes by. Try it out this week for a free treasure map!
As an added Easter egg, burn some of the Harrietum Officinalis plant at your camp for a visit from Harry Potter's patronus – thanks @FinnPup3 for the tip. Keep your guns holstered though, outlaws, as there'll be no JK Rowling during this ghostly encounter.