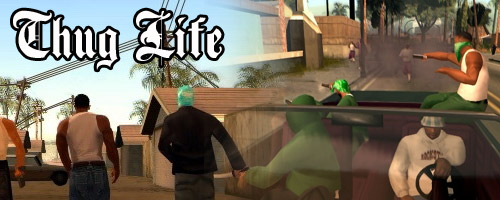 GameSpot have released a new preview focusing on "thug life". Here is a quick summary of the new info:
Rockstar North did some 'gang research' whilst developing San Andreas. To help with this, they consulted DJ Pooh, Mister Cartoon, Estevan Oriol, and hundreds of other people.
Gangs in Los Santos include: The Orange Grove Families, the Ballas, the Vagos, and the Varrios Los Aztecas.
Gang members are recognised by their clothing, tattoos, and hand signs. These are useful for two reasons–It allows police to identify gang set or victim, and it allows gang members to interact. The downside is, people in Los Santos musn't wear the wrong colours, or they'll be in for a beating!
The character models now have fingers (No more blocky hands!)
Each gang has its own territory, indicated by street warnings, wall graffiti, or simply violence. ie, Ballas jacking a pedestrian's car, drive-by shootings and such.
Each of the 4 gangs in Los Santos is split up into 'sets'. This is good and bad news. Bad because, not all sets get along, and good, because there's plenty of backup.

Orange Grove Families
Once one of the most powerful gangs in the city, they have broken up recently due to violence, and splitting up. Almost completely surrounded by Balla territory.
Temple Drive Families
An old gang in Los Santos, located up north. Connected with the Orange Grove Families–If CJ needs help, they'll do just that.
Seville Blvd Families
They only control a small patch of land in south east Los Santos, just under the Saints stadium. They used to be part of the Orange Grove Families, and again, they may be willing to help CJ. There is still trouble within the gang though, and can't always be relied upon.
The Ballas
Sporting purple outfits, currently at war with the Orange Grove Families. They come in two sets.
Front Yard Ballas
Los Santos' most nutorious drug dealers, and the Orange Grove Families' biggest rival. They currently control the 'Jefferson' area.
Rollin Height Ballas
These thugs backup the Front Yard Ballas, and control only the tiny area of Glen Park. Slowly expanding southwards into Idlewood..
Los Santos Vagos
Based in north Los Santos, Las Colinas and Los Flores, this gang is currently at war in East Los Santos. Heavily involved in drug trade.
Varios Los Aztecas
A latin gang controlling areas in south Los Santos–Little Mexico and El Corona. At war with the Vagos, and headed by Cesar, an original gangster, and boyfriend of CJ's sister Kendal.
Be sure to check out the new screenshots that came with the article!
Grand Theft Auto: San Andreas is scheduled for release in 9 days, in the US. Stay with GTASanAndreas.net for all of the latest news and info as it arrives!
Related Links: GameSpot Preview, New Screenshots