"It's been a tumultuous 24 hours for the GTA community." – that was how I started an article 4 years ago, on 16th June 2017, as the infamous modding tool OpenIV received a cease-and-desist order from Take-Two Interactive. The same could apply as I begin this summary again today in a turn of events that has shaken up the modding community once more over the last few weeks.
It began around the 8th July when it was reported on Twitter that mod-hosting database GTA5-Mods.com received a DMCA notice from Take-Two to remove two Grand Theft Auto V mods, Vice City Remastered and San Andreas Remastered, from their website. The purpose of these mods were to "remaster" the original VC and SA maps and update them using GTAV's engine. At the time, the commotion out of this news mainly danced around the idea of this confirming the possibility of 3D-era remasters or remakes of Rockstar's own potentially being announced.
Fast forward to this weekend, and a new sweep of DMCA notices were served to GTA5-Mods once again and now also to ModDB.com, affecting several more mods including GTA Underground, GTA Liberty City, Vice Cry, GTAV Bullworth and more. All of these mods involve updating or improving upon 3D-era assets or porting their maps to GTAV. Subsequently the community has reacted to this news with concern and a feeling that all kinds of mods are now at risk of being shelved in the future. Several gaming media outlets, including PC Gamer, Game Informer and Eurogamer amongst others have already reported on the developing story, and a topic on GTAForums.com has received over 40,000 views.
Now, it is worth noting here that a DMCA notice is a copyright infringement, similar to when you record and post video online containing licenced music that you have no right to share; it would get DMCA flagged as removed by the "owner" of that music. This is different to a cease-and-desist order that was previously sent to the OpenIV team, which essentially forces creators to stop all development and sharing or be served with legal action. Luckily the decision against OpenIV was reversed back in 2017 and prompted clarification on modding to be added to the Rockstar Support website. It was last updated in 2019 to add point (iv), which includes maps: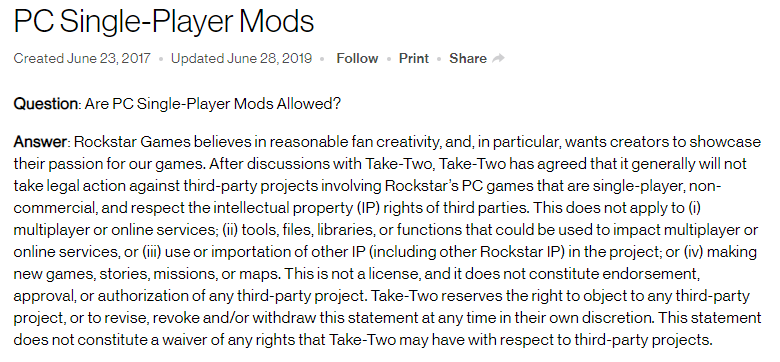 As it stands with this group of mods at the date of posting this article, "only" DMCA notices have been sent to the mod-hosting websites we've mentioned thus far. As far as we are aware, their project websites, sharing platforms such as Google Drive and even their linked files that are shared on our own Featured Mods area of GTAForums.com have not been affected nor any removals requested. The individual mod authors have also not been contacted by any legal teams of Take-Two personally, so they are understandably concerned and confused about what this may mean for the future of their mods.
Of course this could change at any moment over the coming weeks and we will inform the affected teams if our own platform is approached with a request – but it's not really our place to say or answer for without a formal update from Take-Two at this current moment in time. It is thought by some of us who are monitoring the situation that this may be a "soft" takedown in order to prevent or control how easily these mods can be accessed by the wider community. "Why now?" is what most are asking given some of these mods are almost as old as the franchise itself; is it because of a policy change that is once again attempting to limit or restrict the depths that modding can go to with Take-Two owned assets? Or is it because there actually is an announcement on the horizon of remastered or remade games, causing Take-Two to batten down the hatches on projects that may affect the sales or marketing of the re-emergence of some of the most important games in the industry's history?
Regardless of what is happening, how things may unfold or change as the community keeps watch, GTANet's position in the modding community has always been central since our inception – we have always supported and encouraged singleplayer modding, creating subforums and a hosting site of our own for the community to utilise, platforms that are still used to this day.
As a side note, what we will not support is the toxicity that spreads from these kinds of events from certain members of the community that wish to use other players, game developers and even us as a fansite as scapegoats for actions that we have no say or influence over. It's very unfortunate and disappointing to us that ongoing discussions have been marred by this, and unfortunately lead to the closure of the discussion topic on GTAForums.com. Over the last days we have had to witness threats of death and abuse, insults and questions over our integrity as a platform simply for not writing this article you're reading at this very moment sooner than is expected. Anger is best filtered by constructive action rather than harmful words, and targeted harassment will not be tolerated by us regardless of outcome, so we hope the community can learn from this digression and turn it into something hopeful going forward.
In any case, given that modding is such a dedicated community within GTA and has even contributed to the careers of game developers around the world in some form or another, our final stance is that we are certain there is a cause here that could be explained by those responsible to do so, and all we can do is hope for some kind of resolve as feedback continues. The relationship between Take-Two and the modding community has not always been smooth, the curiosity and desire to investigate has caused a number of problems when it comes to the dark side of modding, such as leaks, cheating, hacking and exploitation of the online portions of GTA, which in themselves cause frustration. However, I think it would be safe for me to state with conviction that a majority of the community would be disappointed if the wider policy of singleplayer modding has changed within the company, and we would be saddened for those who are genuinely hurting over the time and effort they have put into freely creating projects for the rest of the community to share and enjoy. If I could, I would appeal to Take-Two to help us reassure the modding community that creativity and expression is not at stake at this time of distress, as much as I would implore the community themselves to practice patience and civility when banding together in protest for matters that are important to them.
This article will be updated with any new developments, should the need arise.
Updated: 2nd August 2021
Today, Take-Two held the first of their quarterly earnings conference calls for the current fiscal year. This mostly concerns financial reporting for shareholders and investors, and not the time or place for any news to break, however one analyst (Mike Hickey of The Benchmark Company) took it upon themselves to ask about the recent modding DMCA notices during an open Q&A at the end of the call. Strauss Zelnick, CEO of Take-Two, answered with the following:
"In terms of take downs, we're pretty flexible, frankly. That said, if the economy is threatened, or if there is bad behaviour—and we know how to define that— then we would issue a takedown notice."
This may not actually address the recent events specifically, as no particular mods or modding types were mentioned in the answer; it's more of a re-iteration of the modding policy we're already aware of, though reduces things down to the company being open to modding unless it directly conflicts with business or there is abuse. This unfortunately doesn't clear up or clarify anything for us just yet, but we thought it would be worth taking note of in this article anyway, as statements such as these are not always easy to come by and it may be the last we hear about this situation in an official capacity.
The discussion currently continues in a new topic on GTAForums.