Today marks the 10th anniversary of one of the best games R* has ever released, Red Dead Redemption!
The epic western tale wasn't Rockstar's first outing on the frontier, having released Red Dead Revolver in 2004, but this "spiritual successor" to the first game set the company on a path of themed storytelling like we had never seen before.
Set in 1911, we followed the outlaw-turned-rancher John Marston as he faced the consequences of his past on the backdrop of a dying wild west. With the mechanics of an open world made familiar to us through GTA and a raw hard-hitting storyline, Rockstar delivered us a true gaming masterpiece that still resonates with many.
Tech Demo at E3 2005
At E3 2005, at the Sony press conference, Rockstar gave us a sneak peek at what was then called Old West Project, running on Rockstar San Diego's revamped AGE/RAGE engine. At the time nothing else was known, including engine information, as it was only revealed in 2006 with Rockstar Games Presents: Table Tennis. This seemingly innocent tech demo ended up being RDR.
Exclusive Fansite Event
In April 2010, four members of the GTANet team were exclusively invited by Rockstar Games to travel to New York and play GTA: EfLC and Red Dead Redemption with other fansite admins, prior to the games' release.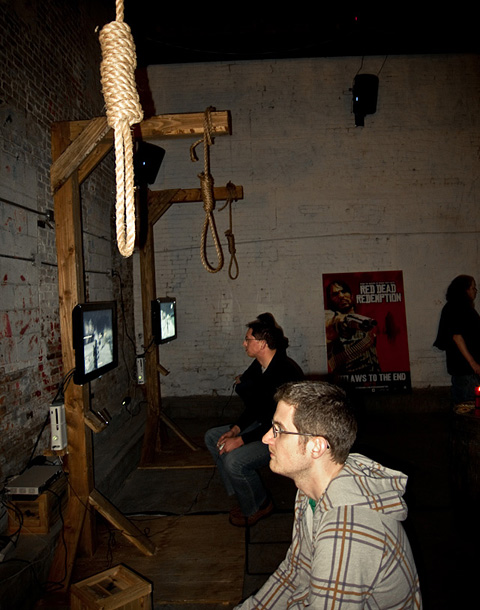 RDR Mural in NYC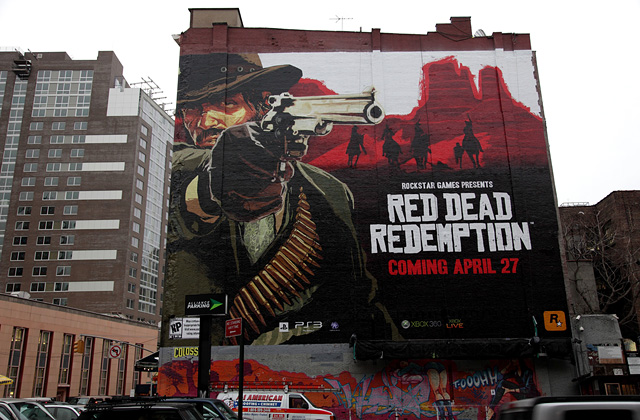 Launch Trailer
Community Memories
That famous moment when you cross the river to Mexico for the first time, get on a horse and "Far Away" starts playing as you ride. This is still by far one of my favorite gaming moments. Happy 10th birthday to #RedDeadRedemption! – @Yan2295
The entirety of the game was a rollercoaster which culminated with me crying at the end of "The Last Enemy That Shall Be Destroyed". I then cried again after Remember My Family. That was a happy cry though. I have beaten RDR like 20 or so times. 3 for RDR2. – @RDOutlaws
Definitely entering Mexico for the first time. It was arguably my best video game moment ever. Hearing the musical score of "Far Away" by Jose Gonzalez made the moment even more special while John rides his horse under the hot scorching desert sun beating down on the Mexican landscape. – @TheOriginalGunslinger
One of my favourite moments was just to explored the surrounding areas of Mcfarlane Ranch as soon as I could free roam, when the night fell for the first time while riding thrue Pike's Basin I got chills. The ambient sound & music… it was an amazing experience. – @TheJesus1996
Chills…
Share your memories with us on GTAForums or Twitter