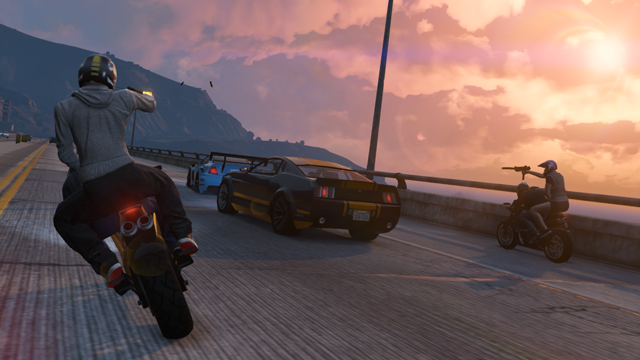 While everyone's busy exploring and enjoying the game, R* provided us with some interesting tidbits on the much anticipated Grand Theft Auto Online, out by October 1st. Here's what they had to say:
Grand Theft Auto Online is going to be something brand new for us: a fully realized and living world for multiple players that will continue to grow and take shape over time.
The ultimate shape of GTA Online will be determined as much by you, the player, as by the work we put in. What you like and don't like, what you play and what you want will determine how the game develops and what it turns into.
Everything we do will be informed by feedback from you all – from the types of missions that roll out to all kinds of future content.
We are planning for a constant stream of new content, tweaks and updates in the weeks and months ahead.
The first couple of weeks we expect to be heavily focused on tuning the experience as it goes from internal testing to the reality of being played by tons of people in the real world so that all the usual teething problems for an online game are overcome. We hope it will all run incredibly smoothly, but please bear with us if it doesn't, and help us fix any and all problems!
After that, we will begin releasing content updates and giving you the opportunity to make your own content.
The Content Creator: The Content Creator will launch with tools to tailor and publish your own Deathmatches & Races.
The Beach Bum Pack: Featuring 4 new amazing beach fun vehicles, over 300 new items of incredible down tempo leisure wear and 2 new but not remotely relaxing weapons.
Capture the Flag: GTA Online's take on the classic CTF mode including the ability to make your own using The Content Creator.
Heists: This update will introduce full-on cooperative Heist missions that will require careful planning, teamwork and sharp execution – along with the Heist Planning Board for your apartment.