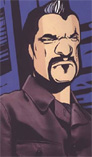 Basti, a member of our forum, is reporting that the german Official PSP Magazine contains two brand new Liberty City Stories screenshots. One of the screenshots shows Miguel, a character featured in Grand Theft Auto 3.
In GTA3, Miguel was a highly ranked member of the Columbian Cartel. He was killed towards the end of the game after being tortured at a construction site (by Asuka) for allegedly killing the leader of the Yakuza gang.
Stay tuned for all the latest Liberty City Stories news and updates.