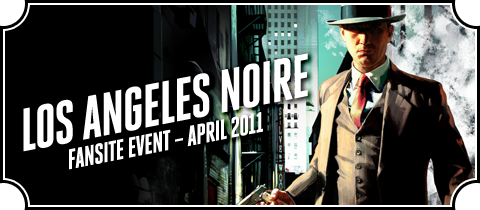 Last weekend, Rockstar Games kindly invited illspirit, Jevon, Andy and I to Los Angeles to experience L.A. Noire first-hand ahead of its release next month. We stayed at the historic Hollywood Roosevelt Hotel (which happens to feature in-game) where we met up with various other fan site operators and contest winners. At previous events hosted by Rockstar, we played together in a single room, but because of the nature of L.A. Noire's gameplay, we were each given our own console to play individually (and at times in groups) in our hotel rooms.
The event consisted of a mini-tour of Los Angeles, a Black Dahlia crime bus tour (which did a good job of describing the period in which L.A. Noire is set), watching fellow webmasters cockblock themselves at the party by the pool, and last but not least, game-time with L.A. Noire. Speaking of the party, there were some rather interesting.. characters to laugh at there, such as the guy from Montreal claiming to be a music video producer—wearing a white dress jacket and jeans—who we took to calling "Canada Vice". But that story is worth an entire chapter by itself!
You can read our general thoughts on the game below, but as we don't want to give away too much about the game (it's really something that should be experienced first-hand) we have refrained from mentioning specific details concerning case and gameplay elements…
L.A. Noire – Our Impressions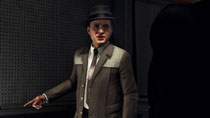 It's been said before, but we'll say it again – this is not a Grand Theft Auto or a Red Dead Redemption-style game. L.A. Noire feels more mature than any other Rockstar title we've played, both in terms of the style of action and the content that is presented.
Fundamentally, it's very different, and the only similarities are the combat/cover systems, the fact it is an open-world, and the basic driving mechanics. Granted, there is still plenty of action which will make fans of Rockstar's other games feel right at home (our favorite in the early part of the game was an epic chase through an old movie set) but these are well balanced with things like the interrogations and such which require much more thinking.
In GTA and Red Dead, the map is arguably the most important component of the game, and is central as far as the action is concerned. In contrast, attention in L.A. Noire is very much focused on the individual cases and crime scenes, with the map, in effect, providing a context to those cases.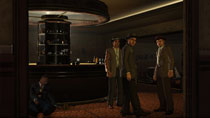 While the player may (and is often encouraged to) explore the world during cases and respond to other crimes reported over the police radio, the current case is active at all times. If one comes into this game expecting a total sandbox experience, it may be a bit shocking at first. But given the film genre which inspired the game, the narrative structure feels much more appropriate.
That said, there's still a good level of interactivity on the map – you can crash into lamp posts and such, and there are collectible items and explorable landmarks. We can't really comment on the accuracy of Team Bondi's recreation of LA in terms of a street by street comparison, since our knowledge of the city during the 1940s isn't great. Well, that, and the map is simply massive and we were all a bit overwhelmed!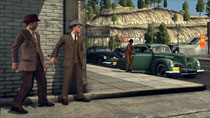 At about 8 square miles, and covering an area from around the LA River to West Hollywood, there is a lot to see and take in. Not only is it big, but the sheer number of streets and alleys in the city is far beyond that found in any GTA to date. As before, our historic knowledge of the city is a bit limited, but the major roads and landmarks we expected to see were there. Likewise, the hotel we were staying at was represented perfectly. All in all, the game does a spectacular job recreating a city which was still growing at the time.
Stylistically, everything seems spot on. From the clothing and cars, down to the film noir slang, the research that went into this project must have been an enormous undertaking. We're not sure how many cars there are, but we saw a lot of them. Being that the game is set in the late '40s, they're obviously all classics, and it's readily apparent that lots of care went into modeling the fancy chrome trim and sweeping body lines which were more common at the time. If you're a fan of old cars, playing with these will be worth the price of admission on their own.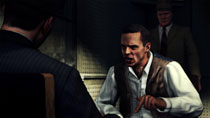 Furthermore, those concerned that the game will be too easy (based on what they may have read in other previews) need not worry. There are audio and controller cues which draw the player's attention to clues at places of interest, however these can be disabled via the options menu. Disabling the options makes the game rather difficult, especially, for instance, in one case we played, where the crime scene was a hideously cluttered house with hundreds of scattered items, the majority of which were irrelevant to the crime.
Interrogation is central to the gameplay, and L.A. Noire utilizes a facial capture system called MotionScan to ensure the experience feels real. Each character you interview has their own personality, and you must read their expressions carefully to decide if they are telling the truth, holding back information, or outright lying. For some characters, it's obvious if they are holding information, while for other characters it's not so easy. For those characters that are difficult to read, interrogations require close attention and an enormous amount of concentration. If you misread someone, it can change the whole way a case is played out. As we found out, it's a game best played on nights where you haven't just spent two days in airports with little sleep!
The End
On Sunday (the final day of the event) illspirit was rushed off to the airport at dawn, while the rest of us spent our final hours saying goodbyes and soaking in the lovely California weather. Needless to say, it was an exciting weekend, and we are all equally excited about playing the final version of the game next month.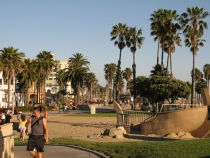 In closing, we would like to thank Rockstar Games for the trip, and the opportunity to play the game before anyone else! We also had the pleasure, as we did in previous events, of meeting other fan site operators. You can read their own thoughts on L.A. Noire at the following links:
Drew –Rockstar Network
Gerald –GTA Warehouse
Jesse –Team Xbox
Kyle –L.A. Noire Gaming
Psy –iGrandTheftAuto
Zeeshan –Rockstar DB
L.A. Noire arrives on PlayStation 3 and Xbox 360 on May 17, 2011 in North America, and May 20, 2011 in Europe. Be sure to check out the official L.A. Noire website for more information, screenshots and gameplay footage, and you can discuss the game on our sister site, LA-Noire.net.