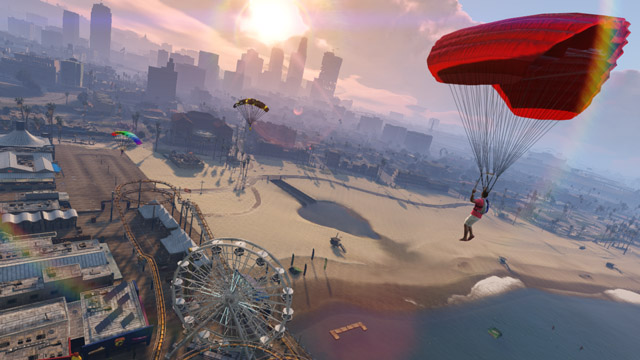 Today it has been announced by Rockstar that the first official add-on for GTA Online, the Beach Bum Pack, will launch next week on Tuesday November 19th. The contents of this pack is free and will be added automatically to GTA Online through the next title update.
The new content will include:

New jobs which include beach-themed Races, Deathmatches, Parachutes, Last Team Standings, Survivals and Gang Attacks.

Four new vehicles which include the BF Bifta dune buggy, the rugged Canis Kalahari off-road truck, the Bravado Paradise beach camper van and making a return to the GTA series, the fast and stylish Speeder speedboat.
Two new weapons, the SNS-Pistol and the Broken Bottle melee weapon. Both of which will be available for use in Story-Mode in addition to GTA Online.
New customization options for your GTA Online character including new clothes, tattoos, hair styles and more.
Rockstar concludes by saying that there will be further new content additions to GTA Online, as well as content additions to the Story-Mode, in the weeks and months to come.

What are your thoughts? Head on over to the forums and discuss!