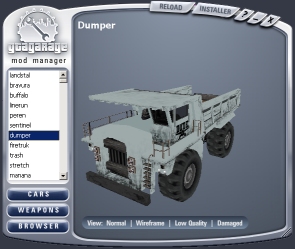 The GTAGarage and GTATools.com are proud to announce the creation and release of the first GTAGarage program, this program will make the distribution and creation of CAR modifications easier than ever before.
The program creates CAR packages for your custom made cars complete with all data needed for installing the car and checks for the need of Dmagic1 wheel mod so that almost nothing can go wrong during installation, the program also contains many useful features which are dedicated to car modders such as manual car data installer and San Andreas col into dff merging which will be extremely helpful in the future. The program works with all 3D gta games, that are GTA3, Vice city and San andreas.
Click Here to get it.