As previously announced, Red Dead Online's summer update has landed! Blood Money is an offering to the outlaws on the frontier looking to make a quick seedy buck.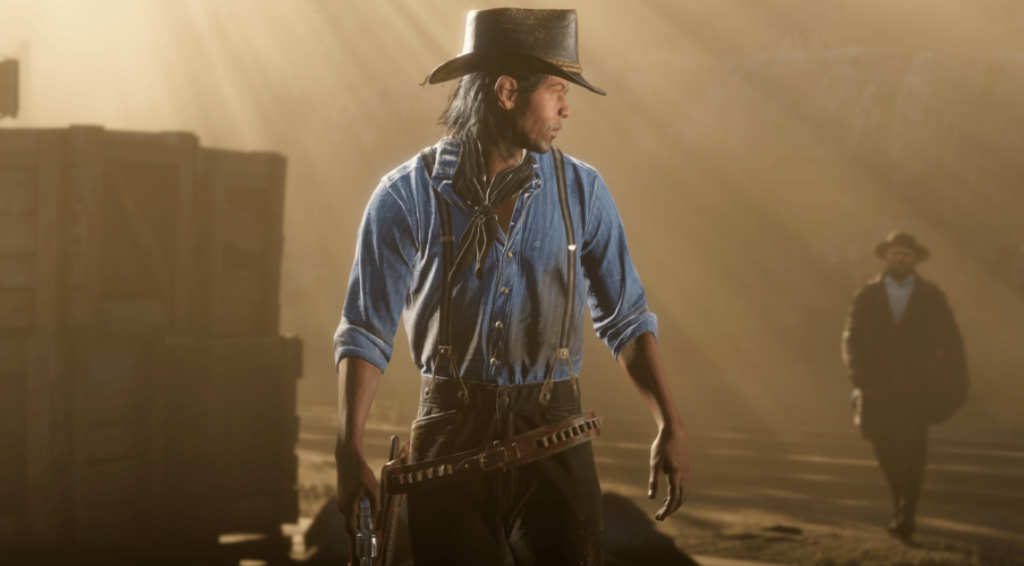 Crimes – Under the command of Guido Martelli, who himself works for crimelord Angelo Bronte, you'll be seeking out the chance to obtain Capitale, the region's new private asset. You'll have access to Crimes, including homestead and camp robberies, as well as multi-part Crime Contracts with their own stories, all with a chance to loot some Capitale along the way. Three contracts have been released today, with more to be added in the future.
Opportunities – Contribute enough Capitale to the criminal underground and Guido Martelli will offer you a unique Opportunity – a train robbery to take back the Covington Emerald. Two other Opportunities will be released at a later date.
The Quick Draw Club – The first (of four) Quick Draw Club passes has also unlocked – the cost is 25 Gold Bars and there are 25 Levels to work through. To receive the Halloween Pass 2 for free in October, all four must be completed, so don't miss out on it if that interests you!
Nominated Series – New series in which players can "nominate" specific modes to be played throughout a playlist, similar to GTA Online. Usually these are cycled through without choice, so this player-focused addition (and a throwback to something we asked for last year) is a nice shout out to those who like to customise their daily gameplay.
Plus – DLSS support for NVIDIA graphics cards on PC, select Outlaw Pass clothing and pamphlets return, new Free Roam Mission menu, new Daily Challenges and Awards, new Hired Gun Kit care package, free saloon drinks all week, free accessory token and a selection of the usual discounts that are available for the next two weeks! All details can be found on the Rockstar Newswire and official Patch Notes.
Free on Playstation Plus
For the next 2 weeks, you can enjoy Red Dead Online without needing a PS+ subscription!
RDR2 Collector's Box Giveaway
There's nothing cooler than Rockstar Games merch, and in a special one-off to celebrate Blood Money, there are 10 Collector's Boxes being given away!
All you have to do is retweet Rockstar's message below on Twitter before midnight EST. There is certain eligibility criteria in place so check that out first, but good luck to everybody that enters!
The Collector's Box was also put up on the Rockstar Warehouse (US only) for a limited time, but unfortunately it is already out of stock.
As always, join us in our community on GTAForums for discussion, screenshots, feedback and bug reporting!