We asked, we asked some more, and then we asked again, and now Rockstar have answered. "Massive" updates are coming soon to GTA Online!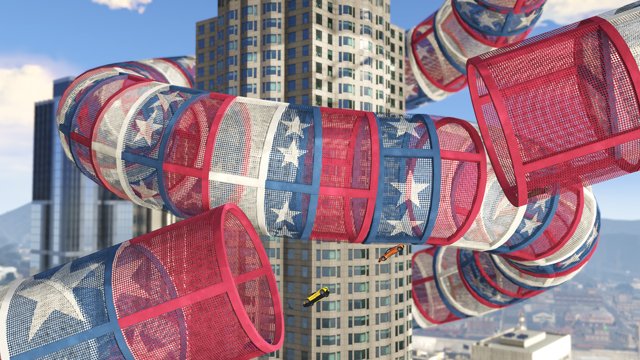 In a nutshell from the official Newswire post:
Organization updates – serious contraband smuggling and trafficking is coming to our VIP franchise and will be handled from new purchasble properties to base your headquarters out of and contain your stock.
Stunt races – a racing mode dedicated to crazy stunts with new cars and Content Creator props to boot. This new mode is gloriously demonstrated in one of the Newswire screenshots showing a red white and blue helter skelter course around Maze Bank.
Adversary mode updates – even more maps are coming to the existing adversary modes as well as brand new modes being added to the collection.
Bonus weeks – Rockstar promise to share the wealth by holding special bonus weeks on a more regular basis, with discounts and the chance to earn more money and RP celebrated with differently themed event weeks.
Content Creator fixes – some special shoutouts are made to those who continue to send Rockstar feedback about the Content Creator, with bug fixes and improvements to the customisation tool on the way.