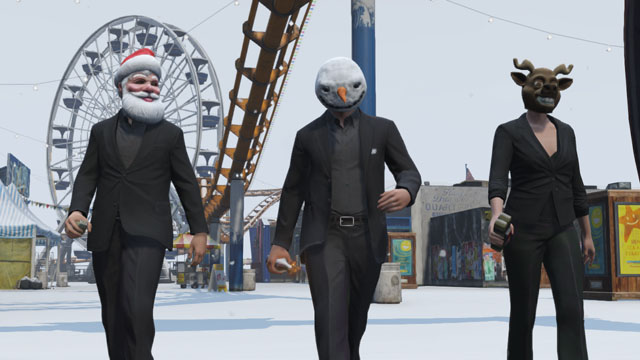 As announced recently on the Rockstar Newswire, new Christmas and holiday-themed content has been added to the world of GTA Online for the holiday period; transforming Los Santos and Blaine County into a Christmas winter wonderland! Below is a summary of the new content thatis available for the holiday period:
New Christmas-themed Clothing and Accessories
Including Santa hats, Elf jackets and shoes, Snowman masks, Reindeer antlers and more. These items are available in GTA Online from clothes shops as well as from Vespucci Movie Masks, and will be available through unti January 5.
New Snapmatic Features
Including all-new photo Filters, Borders, and Facial Expressions. Also available are a new Depth of Field Effect and a Meme Creator feature. All of these new Snapmatic features will always be available, even after the holiday period, and can be used in GTA V's Story Mode in addition to Online.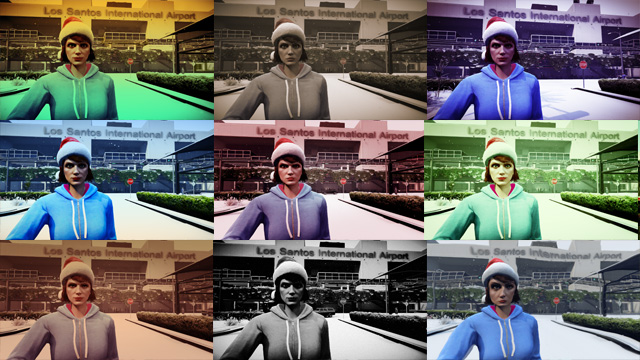 Discounts on Various In-game Items
Discounts are available on select weapons and vehicles through until January 5. Grenades, Tear Gas and Sticky Bombs are available at half price, luxury Sedans including the Super Diamond, Vapid Fugitive, Benefactor Schwartzer and Ubermacht Zion are available for a 30% discount, the Tinsel Towers apartments 45 and 29 are available at a 25% discount, and half price discounts apply for musical horns for vehicles, green and gold weapon tints, Winter hats, berets, Hinterland Boots and Yeti Boots.
A Snow-Covered Los Santos and Blaine County
…And last but not least, snow blankets the ground all across Los Santos and Blaine County in GTA Online for Christmas!
As always, you can discuss these new content additions and share your thoughts over at GTAForums.