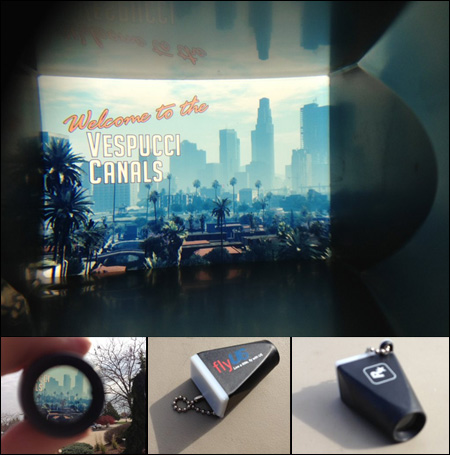 With Rockstar confirming GTA V is available to pre-order from this coming Monday (5th November) it appears retailers have started to receive some promotional materials ready for marketing. Members at GTAForums have reported special Los Santos "photo viewers" featuring locations from the game have been distributed alongside two-sided posters featuring the unreleased artwork seen earlier this week.
We've heard that these cool little keepsakes are to be given out first-come first-served from the day pre-ording officially begins (Monday) but some fans have reported they've already received theirs in stores across North America. Each photo viewer has their own unique destination and caption, described below.
Welcome to the Vespucci Canals (above)
See the stars on Vinewood Hills
Wish you were here, Del Perro Pier
Welcome to Grapeseed
Having fun at the Zancudo River
Update: GAME, the main video game retailer in the UK, has confirmed with this tweet that posters featuring a girl being arrested by a (female!) police officer will be available with pre-orders this weekend.