Rockstar has this afternoon announced that GTAV for PC will not be releasing in 2 weeks as originally intended, but instead launch this spring on Tuesday 24th March.
Although disappointing for the community, Rockstar have assured us that the game needed more testing to "make it as good as it can be":
Our apologies for the slight shift in the date but the game requires a few extra weeks of testing and polish to make it as good as can be. Moving a release date is never a decision we take lightly and is a choice we make only when we know it is in the best interests of the game and our fans. Thanks everyone for your understanding and we assure you these few extra weeks will be worth it when the game does arrive in March.
Alongside the release date announcement, we have the long-awaited PC specs / requirements as well as confirmation that GTA Online will be available from launch day with 30 player lobbies and heists.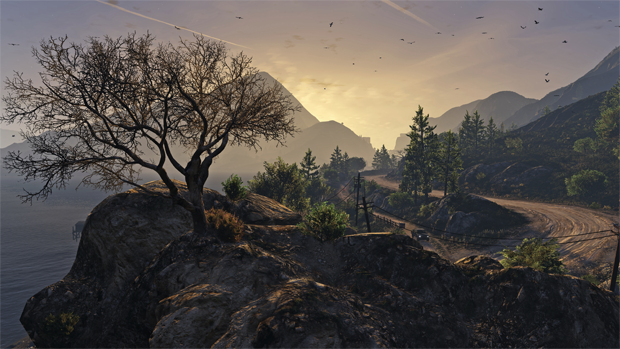 We've also been treated to some very glossy screenshots showing off the PC version's capabilities of 4k resolution, as well as as a tidbit on the Rockstar Editor, an all-new video editing feature.

Minimum specificationsOS: Windows 8.1 64 Bit, Windows 8 64 Bit, Windows 7 64 Bit Service Pack 1, Windows Vista 64 Bit Service Pack 2* (*NVIDIA video card recommended if running Vista OS)Processor: Intel Core 2 Quad CPU Q6600 @ 2.40GHz (4 CPUs) / AMD Phenom 9850 Quad-Core Processor (4 CPUs) @ 2.5GHzMemory: 4GBVideo Card: NVIDIA 9800 GT 1GB / AMD HD 4870 1GB (DX 10, 10.1, 11)Sound Card: 100% DirectX 10 compatibleHDD Space: 65GBDVD Drive

Recommended specificationsOS: Windows 8.1 64 Bit, Windows 8 64 Bit, Windows 7 64 Bit Service Pack 1Processor: Intel Core i5 3470 @ 3.2GHZ (4 CPUs) / AMD X8 FX-8350 @ 4GHZ (8 CPUs)Memory: 8GBVideo Card: NVIDIA GTX 660 2GB / AMD HD7870 2GBSound Card: 100% DirectX 10 compatibleHDD Space: 65GBDVD Drive