While we wait for more official info and images on GTA 5, check out this hilarious fan art by GTA Forums community member grope – who's known for creating hilarious fan art.
Inspired by a segment on British Top Gear, this piece shows Franklin driving away from the police in the desert region of Blaine County.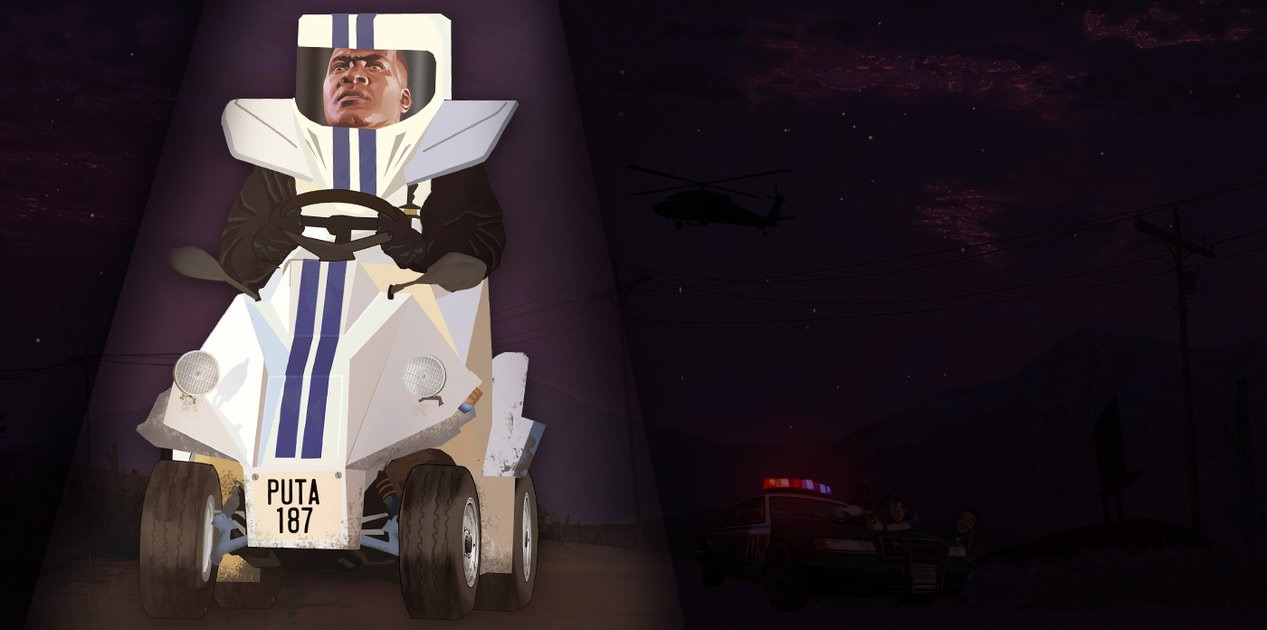 In other news, those of you who are following Epsilon's twitter would have noticed that after an absence of nearly five months the account has recently started tweeting again.
Finally won the court case! We are innocent, we are back and we are not a cult!

— Epsilon Program (@EpsilonismToday) April 20, 2013
Official Epsilon screen saver coming soon

— Epsilon Program (@EpsilonismToday) April 21, 2013
Some fans are speculating with conspiracy theories the meaning behind some of these tweets – particularly the screen saver tweet (that it could be a hint to a trailer or official interactive website launch).
But just like last year's tweets on "Official Epsilon merchandise" (which turned out to be just that, a t-shirt) – this is probably straight forward and to the point: An actual screen saver.
For those of you who are out of the loop and just tuning in: The Epsilon Program is a fictional religious cult within the world of Grand Theft Auto – with clear inspirations drawn from real-world Church of Scientology (which is based in the city of Los Angeles). With GTAV set in a fictional L.A., it should be interesting to see how much of a role they play in the main and/or ambient world story line.