A retail store promotional poster for GTAV was leaked onto the web today, showcasing the official artwork released earlier in the week, in addition to a never before seen one featuring a different character.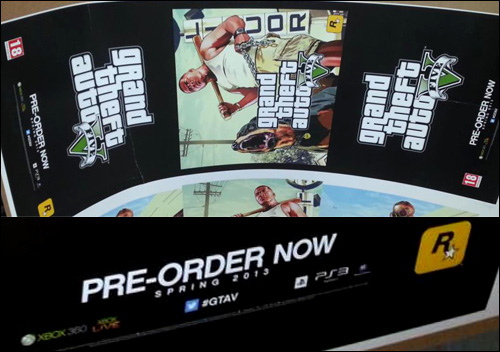 But what is of most importance is that these posters list a release date for the game of Spring 2013 (Northern Hemisphere), meaning a release date some time between late March and June of next year. The only platforms listed are Xbox 360 and PlayStation 3.
As we understand it, these posters are from a popular brand retail store in England – and will be put up soon.
We have no official word on the legitamacy behind this, but considering a retail store received this, we can only assume that an official announcement is around the corner.
Rockstar Games parent company Take-Two is reporting their financial results this Tuesday, and will be giving updated guidance on their financial projections for the rest of the financial year (ending March 31st, 2013).
Previously, they had given sales projections for Rockstar Games that they can only meet with a major Grand Theft Auto release. If they keep that projection, it means they still believe the game is out by March of next year. If they dramtically lower their guidance, this means the game is coming out after March 2013.
Update: The abovementioned reporting and guidance update from Take-Two, which was scheduled for Tuesday the 30th, has been postponed following the Hurricane on the U.S. East coast. A rescheduled time have yet to be announced.
Update 2: Game reaffirmed this through posting pictures of two additional promotional images. More on that over here.