It's been nearly 6 months since the announcement of Grand Theft Auto V, and while we were treated to a trailer shortly after, Rockstar have remained tight-lipped on the all-important details such as release date and protagonist.
Fans have never been busier, however, and the GTANet Community in particular is rife with analysis and speculation.
One of the most detailed topics over at GTAForums is Mapping Los Santos. Eagle-eyed members have taken to analysing the buildings and locations shown within the GTA V trailer, matching them to real-life points in Los Angeles. To get a feel of how vast the map could be, forum member SonofUgly pinned all the locations discovered to a Google Map. Downtown LA, Hollywood, Santa Monica and as far south as San Pedro all feature, making Rockstar's Los Santos look to be the most advanced and perfectly recreated city yet.
Mapping Los Santos! by Gifbrah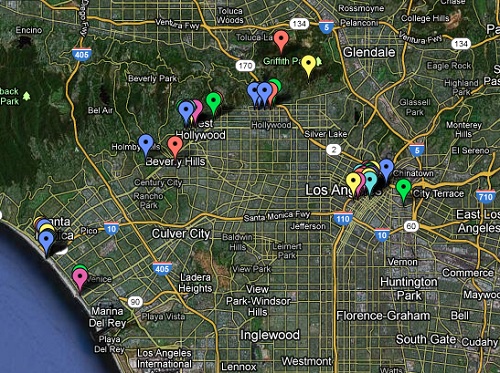 Another hot topic is speculation about the Protagonist. On first play, we're lead to believe the protagonist is simply the narrator, but on closer inspection, a couple of different characters appear during several cut scenes. Could multiple protagonists be introduced to the GTA Series for the first time? Vote in the poll to see what other members think.
The main character will be… by ClaudeSpeedRulez
If you're fed up of watching the trailer over and over hoping to spot something new, why not join in with GTA5 Screenshot Fun? You can use our Media Gallery for HQ images; simply post your contribution to join in.
GTA5 Screenshot Fun by grope_4_that_date
April brings the anniversary month for the release of GTA IV; what was your most memorable moment? How has it changed your expectations for GTA V? Answer this questionnaire and see how other members rated the debut trailer.
So its been 4 years… by GtaVComments
Finally, Rockstar may be going through a quiet spell with GTA, but next month will bring us the release of Max Payne 3. Fans will be able to see just how the new multiplayer Crews feature will work, since it will connect to other titles via the Social Club, including GTA V.
Community Spotlight will be a regular summary linking to some of the most popular topics from GTAForums GTA V section that encourage discussion and contribution leading up to the release.