One of the most intriguing parts of Grand Theft Auto is the embracing of the city's design. What it looks like, how the streets and areas are connected… basically an overall understanding of the city's physical makeup. GTA IV is no exception. Although we know that it is set in Liberty City, Rockstar has promised to deliver such a drastic change in the look and the feel of the city, that we can be sure that exploring GTA IV's Liberty will be very different from exploring the Liberty City of either GTA III or GTA: Liberty City Stories.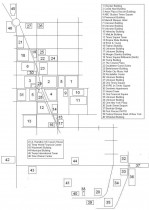 It didn't take long for our community members to get together and start poking and prodding the preview screenshots (and trailers) of GTA IV to try and get a rough idea of how this new and improved Libert City is organized. Back around the end of March, the thread "Laying Out Liberty City" was started up. Unlike the threads that have been spotlighted thus far, though, Laying Out Liberty City is much more of a group effort – its success is based heavily on the contributions of various members.
Although we should remember that most of the content is purely speculative, Laying Out Liberty City is nonetheless a great topic to poke through if you have some time to kill.
Community Spotlight: Laying Out Liberty City
Community Spotlight is a reoccurring (twice weekly) feature of GTA4.net, highlighting some of the hottest and most interesting topics from the GTAForums Community regarding the upcoming release of GTA IV. Want to nominate a thread for Community Spotlight? Check out the Community Spotlight thread over on GTAForums for details.