R* gave us a small bit of what we could expect in their highly anticipated game's OST, as Rolling Stone and PitchFork published the previews alongside an interview with R*' Soundtrack Supervisor Ivan Pavlovich. The game's soundtrack will feature 15 music stations, two stations of talk radio and 240 licensed songs.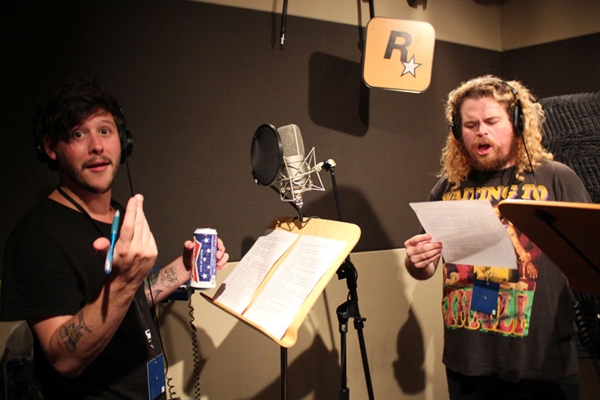 Vinewood Boulevard Radio hosts Stephen Pope and Nate Williams

The game also includes over 20 hours of original, dynamic score created by noted composer Tangerine Dream in collaboration with Woody Jackson (Red Dead Redemption, Max Payne 3, LA Noire) and L.A. hip-hop producers Alchemist and Oh No.

But that's not all, both publications provided some snippets from the soundtrack! Here's a summary for the radio stations descriptions and their samples, thanks to user KevStyle.

There's a station called Vinewood Boulevard Radio, which features Stephen Pope and Nate Williams from Wavves. This is a modern rock station, the embodiment of the young Los Angeles rock scene. For us Wavves is the most exciting, so it was pretty amazing to work with those guys.

Click to listen to Vinewood Boulevard Radio Sampler


Mexican culture is so big in Los Angeles, and it was fitting that we did a station like that. That's East LOS FM, which was curated and DJ mixed by Camilo Lara from the Mexican Institute of Sound. It's a combination of Mexican electronica, narcocorridos, other traditional songs and Mexican ska.

Click to listen to East LOS FM Radio Sampler


DJPooh hosts the West Coast Classics station. He's legendary – this is the guy who created the movie Friday. He's a big personality, and he grew up with all these guys who are on the station. We were getting phone calls from Pooh saying, "I'm driving over to Dre's house, what do you need from him?" And then 30 minutes later he's like, "I'm going to Snoop's house." We've already done something like this in San Andreas, so to build on that and have Pooh guiding us through it and helping us find true gems – I think that station's going to be surprising, even though we've covered that material before.

Click to listen to West Coast Classics Radio Sampler


Rebel Radio is our take on outlaw country, by Jesco White, of the documentary The Wild and Wonderful Whites of West Virginia. Look him up. This is the kind of character that just fills out this world we've created.

Click to listen to Rebel Radio Sampler


FlyLo FM, hosted and mixed by Flying Lotus, will feature the new track "Garbage" by Tyler, the Creator, as well as new music from FlyLo himself and his rapping alter-ego Captain Murphy, plus music from Clams Casino, Hudson Mohawke, Aphex Twin, Outkast, and more.
Wondering what was the name of the song featured in the Official Trailer? It's The Chain Gang of 1974's Sleepwalking, and you can listen to the trailer edit version at SoundCloud thanks to R*!

Read more about the soundtrack at R*'s Newswire and discuss your thoughts over at GTAForums.